University of Doha for Science and Technology (UDST) Signs MoU with Qatar Solar Energy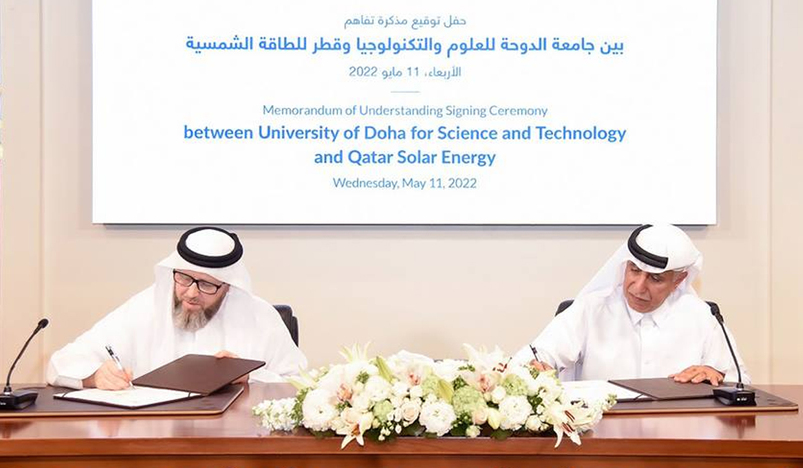 Image: QNA
University of Doha for Science and Technology (UDST) has signed a memorandum of understanding with Qatar Solar Energy to develop collaboration opportunities that enhance education and support renewable energy and sustainability.
The MoU, which was signed by UDSTs President Dr. Salem Al Naemi and Chairman of Qatar Solar Energy Salim Abbasi, constitutes a strong base that explores research in the energy field specifically renewable energy. Qatar Solar Energy will participate in the Universitys program advisory committee and will join UDST events and conferences that tackle energy audit and renewable energy.
The University will consult with Qatar Solar Energy to equip many of its facilities and labs with the right sustainable machinery and tools. Furthermore, UDST students will be offered an internship program by the company.
On this occasion, Dr. Salem Al Naemi said: "This collaboration is the start of a path that leads to a more aware generation, with greater knowledge of the planet and the needs of a sustainable economy as stated in Qatar National Vision 2030." He pointed out that UDST, the First National Applied University and the leading institution in technical and vocational education and training, works relentlessly for sustainability. We actively engage in green initiatives and foster a culture of environmental leadership among its staff, faculty and students, adding that it created new programs in light of future requirements of sustainability. These unique programs will be available starting fall term 2022. They are expected to attract a big number of students who are looking to be well equipped for the careers of the future.
For his part, Abbasi said: "In line with Qatar National Vision 2030 that aims to strengthen the human, social, economic and environmental development in the State, Qatar Solar Energy has made many strategic partnerships with leading international technology companies to put the latest technologies at the service of the energy, water and food security sectors in Qatar. Within this framework, Qatar Solar Energy has also signed several agreements related to research and development with many research institutions and universities, noting that this step comes to further enhance the integration between these institutions and the industrial sector. This approach serves the national economy and is a catalyst factor that can support Qatar into becoming a global leader in manufacturing renewable energy products and exporting to the international markets. 
Source: QNA