Things to do this weekend: September 16 – 18, 2021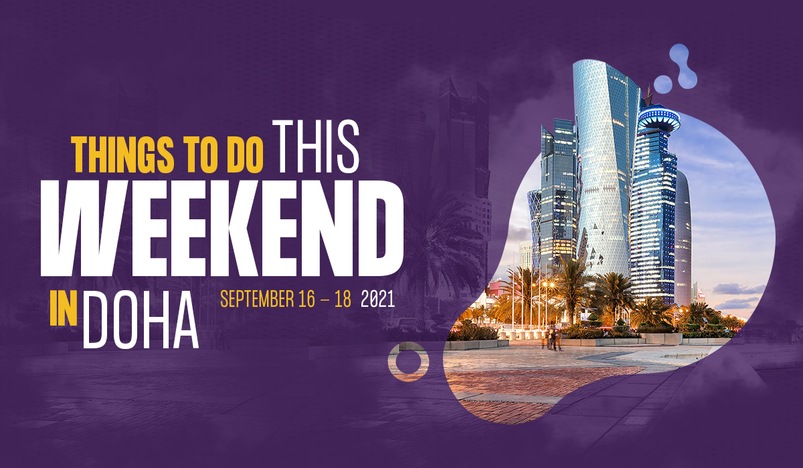 Things to do this weekend - September 16 – 18, 2021
Here is a list of things we have curated for you to enjoy this weekend safe and sound by abiding the enforced preventive measures in Qatar.

1.    Dreamy Faces Clay Workshop at Katara
Here is an amazing opportunity for kids who are into clay modelling to explore a fun-filled activity during the weekend. Introducing 'Dreamy Faces' clay workshop, which will be held at the Katara Cultural Village and it ensures a great time for children aged 10 – 14 year-olds today (September 16) from 4:00 pm until 6:30 pm. You can purchase the tickets online or email for more information on education@katara.net
Website: https://www.khttps://www.katara.net/whats-on/events/dreamy-faces-clay-workshopatara.net/whats-on/events/dreamy-faces-clay-workshop
2.    360 play Mini Golf 
Fascinated in playing golf indoors? Here's an exciting opportunity to play mini golf with your loved ones as this event will be a combination of mini golf with the access of pirateship for kids. Ensure all covid protocol and play your favorite sport while your kids can enjoy in a giant pirateship. Cost varies for children, adults and daily comers. 
For more details visit: https://www.q-tickets.com/Events/EventsDetails/8878/360-play-mini-golf

3.    MIA library colouring event 
This event that takes place every Saturday afternoon is exciting for all the participants to colour and relax their time in the library at Museum of Islamic Art Library. This event that times place until September 25th is free to attend and all colouring materials will be supplied at the location. Do join every Saturdays from 12:00 pm - 05:00 pm for a great time of colouring Islamic patterns with your loved ones. For more details regarding the event kindly call on +974 4422 4444 or alternatively email: whatsonatmia@qm.org.qa
Website: http://mia.org.qa/
4.    Sky Masters Sports Club 
Have you ever wondered what is it to fly like a bird? As Sky Masters Sports Club offers you this childhood dream of flying, you will be briefed on the safety measures by a certified instructor via intercom. Grab this amazing opportunity during Eid holidays to enjoy and relax 20 minutes of flying with breath-taking views, sights and smells from a 360-degree angle while flying low and slow. Located near the Sealine Beach in Mesaieed, this will be open to the public from 5:30 am onwards everyday.  
For more details on booking tickets and registering: https://www.q-tickets.com/Events/EventsDetails/8927/sky-masters-sports-club 
5.    QF Volunteer Support for Afghan refugees in Qatar
Qatar Foundation (QF) is currently looking for volunteers to support the activities they have for the Afghan refugees housed in Qatar. If you wish to do so, kindly fill out this survey and they will contact you with the proposed slots. Please note you will need to complete a short training to participate. The last date to fill the form is September 30, 2021.