Things to do this weekend: July 1 – 3, 2021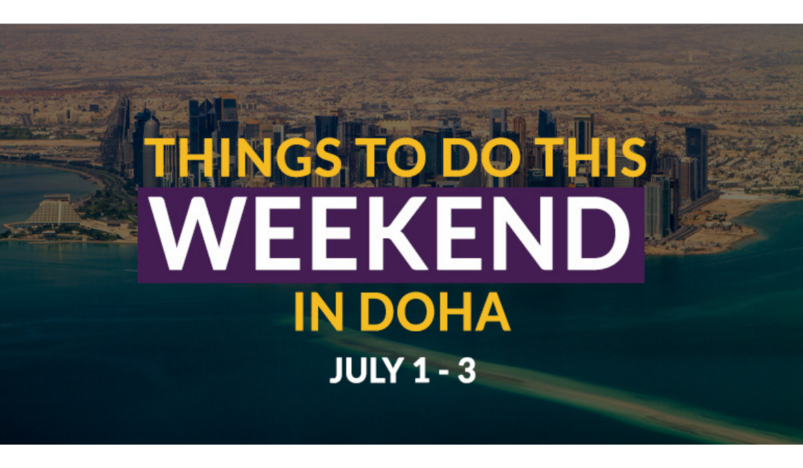 Things to do this weekend
As covid-19 infection rates are slowly declining in Qatar and second phase of gradual lifting of the restrictions are still in place, let us continue to ensure we abide by the rules set by the designated authorities and making sure that preventive measures are still in place as more freedom is on the door step due to the declining cases of coronavirus (Covid-19). Meanwhile let us ensure to make this weekend fun and exciting with various events in the country that can be done virtually and by visiting places while applying precautionary measures such as wearing masks and social distancing in places where it is mandatory. 
1. 360 play Mini Golf
Fascinated in playing golf indoors? Here's an exciting opportunity to play mini golf with your loved ones as this event will be a combination of mini golf with the access of pirateship for kids. Ensure all covid protocol and play your favorite sport while your kids can enjoy in a giant pirateship. Cost varies for children, adults and daily comers. 
For more details visit: https://www.q-tickets.com/Events/EventsDetails/8878/360-play-mini-golf
2. Salwa Beach Resort
The Desert Falls Water & Adventure Park at Salwa beach resort is now finally open. Grab their early bird offer of QAR 150 for adults and QAR 100 for juniors. Ensure to have a fun and exciting adventure in this lively place with 28 rides and slides, a go-kart and laser tag arena and much more. Come along with your family or friends to explore the thrilling park as it opens every day from 10:00 am to 7:00 pm. For more details place a call at +974 4423 6666.
To book your ticket: https://www.q-tickets.com/Events/EventsDetails/8928
3. Virtual Summer Camp
The National library is organizing its second young adults' 'Virtual Summer Camp' by providing many interesting and fun activities. If you are aged between 12 and 18 years old, then join for this online event through Microsoft Teams by registering for the event in prior. The event is scheduled to be conducted from 3 July until 14 July from 8 am to 11 pm. For further details, place a call on 4454 01011 or email: qnl@qnl.qa
Website: https://qnl.qa/en/events
4. Seagrass Tales, Dugong Trails
Are you aware of the intriguing facts and mysteries sea creatures Dugongs hold? 
Do you know all about Dugongs in Qatar and other fun facts? The National Museum of Qatar (NMoQ) in collaboration with ExxonMobil Research Qatar (EMRQ) is conducting an Exhibition on Dugongs, which is ongoing. The exhibition introduces Dugongs and their life in sea and explains all about its habitat. You will also get to experience on the significant work of scientists researching about these amazing creatures in Qatar and what must be done in order to protect them and their environment through both science and daily actions. You can purchase the ticket online as it costs QR 50 for adults, QR 25 for students, and free of cost for all children below 16 years old. For more information call them on 4452 5555 or alternatively email on infonmoq@qm.org.qa
Website: https://nmoq.org.qa/exhibitions
5. KidZania Doha 
KidZania Doha is now open for the public and everyone is coming back the real city operated by the children. As this is a special occasion, it has a special treat for all its citiZens and their families with 50% off for all adults. This offer expires on 17th of July. Located in the Villaggio Mall, KidZania operates from Monday to Wednesday from 3 pm to 8 pm. Thursday to Friday from 2 pm to 10 pm and on Saturdays from 11 am to 8 pm. Sundays will remain closed. 
To purchase your tickets go to: https://tickets.kidzania.qa/
• Baby (0 - 1-year-old): Free
• Toddler (2 - 3 years old): QR 95
• Kids (4 - 16 years old); QR 160 
• Adult (17-60 years old): QR 95 QR 50 
• Senior citizen (60+ years old): QR 95 (Special offers valid only until the end July 17, 2021) 
Also check out their social media pages to keep posted:
•  Facebook: @KidZaniaDoha 
• Instagram: @kidzania.doha 
• Twitter: @KidZaniaDoha 
Website: https://doha.kidzania.com/en-qa