Things to do in Qatar this weekend: June 30-July 2, 2022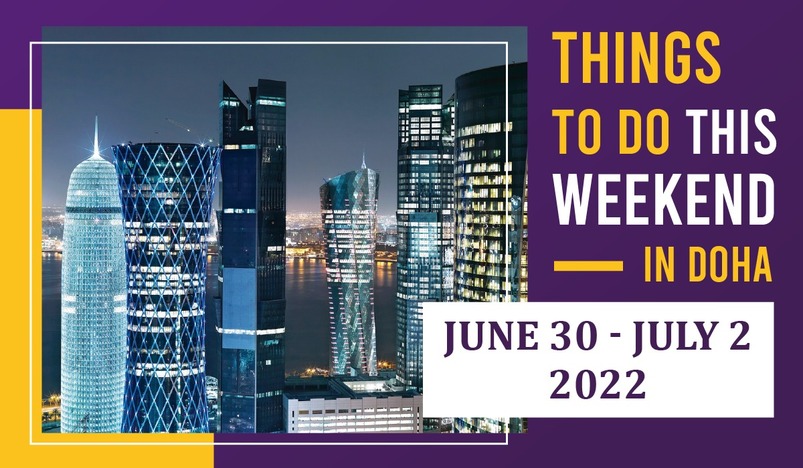 Where to go and what to do this weekend in Qatar
Check out our top picks for Things to Do in Qatar from June 16-18, 2022 below.
Note: Events are subject to change as per the organizers. Follow the COVID-19 measures in place to ensure yours and others' safety.
June 30, 2022 - Thursday
1. She Q Excellence Award
Gulf Madhyamam She Q Excellence Award 2022.
The First Indo-Qatar Women Empowerment initiative to recognize the achievements of Indian expatriate women making an impact locally, nationally and globally.
Be part of this iconic award event at 06.30 PM on 30th June 2022 at Al Massa BallRoom Holiday Inn, Doha.
Enjoy the Mystical Live Music Show with Buffet Dinner.
Date: June 30, 2022
Time: 6:30PM Onwards
 Location: Al Massa Ballroom, Holiday Inn Doha
 Ticket Rates:
• Single (Admit - 1) QAR 250
• Couple (Admit - 2) QAR 450
• Kids (Age: 5 - 12) QAR 150
• Club Adults (Admit - 5 Adults) QAR 1000
• Club Family (Admit - 4 Adults + 1 Kid (Age: 5 - 12) QAR 900
• Club Family Plus (Admit - 4 Adults + 2 Kids (Age: 5 - 12) QAR 1,000
Ticket Booking:
Book your tickets at www.q-tickets.com
2. Sabi & Sky Makeup Workshop
Sabi & Sky Makup workshop is a Canadian Makeup Academy which offers a wide range of makeup trends to specialize in Doha, Qatar.
Note: All Makeup Kits & tools will be provided by Sabi & Sky Makup Workshop. It will be used for the training purpose at the classroom only.
No Entry before Gate opening Time i.e. 2 PM
Dates: June 30 to July 7, 2022
Time: 2:15PM Onwards
Location: Cielo Hotel Lusail
Ticket Rates:
Regular (June 30) - QAR 800
Regular (1st and 2nd July) - QAR 2,500
Ticket Booking:
Book your tickets at www.q-tickets.com
3. Turtle Hatching at Fuwairit Beach
Dadu, Children's Museum of Qatar, in collaboration with the Ministry of Environment and Climate Change (MOECC) with the support of the Qatar Natural History Group, invites Qatar Museums' Culture Pass Family members on field trips to observe the hatching of the hawksbill turtle as part of the Qatar Turtle Project at Fuwairit Beach.
This year's edition of Turtle Encounters is focused on giving children the opportunity to enjoy the annual hatching phase of the hawksbill turtle - classified as an endangered species by the International Union for Conservation of Nature in 1982 - along Qatar's coastline. The hatching phase takes place each year from the beginning of June until the end of July. 
Dates: June 30 and July 5, 7, 12
Timing: 8pm to 9pm 
Admission: Culture Pass Family members can sign up for the Turtle Encounters (For the safety of participants and the marine life, spaces are limited for each visit. Culture Pass Family members will receive the registration link for Turtle Encounters through the members newsletter)
As part of Turtle Encounters, participating Culture Pass Family will visit the turtle nesting site on Fuwairit beach before participating in a beach cleanup. During the experience, visitors will watch a team of environmental conservationists collect, count and measure baby turtle hatchlings before releasing them into the sea.  
July 1, 2022 - Friday
1. Geet Malhar
After the great success of "Geet Malhar" – Kuwait, MediaOne TV is presenting a musical experience to Doha viewers. "Geet Malhar" - an evening dedicated to the songs from Gazal, Sufi, Maapila Paatu, Hindi and Malayalam movie industry. The leading singers from different branches of music will perform at Aspire Ladies Sports Hall in Doha. The entire show is conceived and organized by MediaOne TV Middle East.
Date: July 1, 2022
Time: 7:00PM Onwards
Location: Aspire Ladies Sports Hall
Ticket Rates:
• Elite Member QAR 1500
• VVIP QAR 1000
• VIP QAR 500
• Emerald QAR 250
• Diamond QAR 100
• Platinum QAR 75
• Gold QAR 50
Ticket Booking:
Book your tickets at www.q-tickets.com
2. QRS Summer Sizzler 2022 - Race 2


4-RACE INDOOR RUNNING SERIES
Beat the summer heat and join a 4-race Track Challenge at the Aspire Dome Indoor running track!
QRS Summer Sizzler is a series of timed races. The events range from 15-minute & 30-minute races. Athletes can run unlimited loops of the 200m track within the stipulated time limit. Each event will be restricted to a maximum of 100 participants.
START TIMES
• 30 Min Challenge - Open (16-39) & Masters (40+): 8:30 AM.
• 15 Min Challenge - Open (16-39) & Masters (40+): 8:35 AM.
• 15 Min Challenge - Juniors (7-15 ): 8:55 AM.
EVENT DATE
• RACE 1: Friday 10 June 2022
• RACE 2: Friday 01 July 2022
• RACE 3: Friday 19 August 2022
• RACE 4: Friday 02 September 2022
*Event locations, times and dates may change.
WHAT'S INCLUDED
• Aid Station at the Start / Finish line
• Race Bib
• Medical support
• Course marshals
• Public liability insurance
• Custom designed finisher's medal for all distances
• Awards for the Top 3 Open (Male / Female) in 30 min & 15 min races
• Awards for the Top 3 Masters (Male / Female) in 30 min & 15 min races
•  Awards for the Top 3 Juniors (Male / Female) in 15 min race
Date: July 1, 2022
Time: 8:30AM Onwards
Location: Aspire Dome Indoor
Ticket Rates:
• ADULTS (16+) QAR 120
• JUNIORS (7 -15) QAR 60
Ticket Booking:
Book your tickets at www.q-tickets.com
3. National Cruise
Hit The Beach
Face the hot weather with a cool day on Safliya Island beach. National Cruise brings you all the fun, adventurous,delicious food and water activities you could wish for in the middle of the bay. Hurry up to reserve your ticket NOW! 
Seats are limeted. All terms and conditins applied.
Dates: Ongoing until August 31, 2022
Ticket Bookings: Book now at www.q-tickets.com
Escape the hustle and bustle of the city life and soak up the sights aboard a dhow. What a better way to spend your weekend. Leave your worries behind and create a moment to remember on-board National Cruise.
• 6-hours Island beach break program.
• Special Island beach setup.
• Coffee, Tea, Juice and Bottled Drinking Water.
• Beach Activities such a Football, Volleyball, Frisbee, etc.
• Water activities such as Swimming, UNLIMITED Banana Boat and Air stream (doughnut)
Rates:
• Option 1 QR 375 per person Along with an Open International buffet Minimum of 20 Pax.
• Option 2 QR 250 per person Along with package meal for each minimum of 20 Pax.
• The above is valid for private booking in any date and time the client can chose.
• Current promotion for option 2 is QR 195 per person till mid of February every Friday from 1 PM to 7 PM without any minimum number of people.
Dinner Cruise
Step aboard the Cruise for an unforgettable evening. Departing from the Box Park, you'll enjoy a leisurely three-hour cruise along the Pearl and unobstructed views of west-bay Building, skyline, Islamic museum and more.
• 3-hours program.
• Open international buffet.
• Special Boat set up.
• Coffee, Tea, Juice and Bottled Drinking Water.
• Price: QR 300 per person Minimum of 20 Pax.
• This above is valid for private booking in any date and time the client can chose it.
• Current promotion QR 300 per person Thursday from 6 PM to 9 PM without any minimum number of people.
• Live entertainment available upon request and availability
• Tanoura at QR 2,000 for 30 minutes
• Live violin at QR 3,200 for 1 hour
• Live Saxophone at QR 1,500 for 1.5 hours
• Kids entertainment face painting and balloon twisting at QR 2,500 for 2 hours
• Pianist at QR 4,500 for 1 hours
• City Tour By Sea
• A touch of heritage meets modern architecture during this 2-hour mid-day cruise from M.I.A., pass by Katara the cultural Village and The Pearl-Qatar and vice versa through the waters of Arabian Gulf. Hop on and hop off and travel by cruise to discover the major tourist destinations in Qatar.
• Schedules available between 3:00 PM to 10:00 PM every two hours one trip in the weekend and a daily trip from 5 to 7 Pm in the week days minimum of 3 Pax.
• QR 150 for Round trip per person
• QR 90 for one-way trip per person
*Including free flowing hot and cold beverages
*Food is available upon pre-booking at additional charges
Kids Policy for all services:
• Below 4 years old is free –of-charge
• 5 to 10 years old will have 50 % discount on the regular ticket prices
• Above 10 years old will be charged with regular ticket prices
• National Cruise Dhow capacity and rental per hour with minimum of 4 hours:
• 40 Capacity Dhow QR 1,500 per hour
• 60 Capacity Dhow QR 1,800 per hour
• 80 Capacity (Open Dhow) QR 2,000 per hour
• 80 Capacity (Closed Full AC Dhow) QR 2,000 per hour
• Current Package 2300 QAR for 12 persons and two hours cruising with free flow refreshment (water, tea, coffee and juices) Additional extension per hour 450 QAR.
• The National Cruise staff will notify you of the pickup location after your ticket has been confirmed.
4. Thrilling Summer Festival at Doha Festival
Doha Festival City, Qatar's one and only choice for shopping, dining, and entertainment announces preparations for its Summer Festival 2022 showcasing an exclusive line-up of international entertainment performances and engaging children's activities. Visitors and shoppers are invited to join in the festivities at the Mall between the 16th of June and 16th of July.
 
This year's Summer Festival will take a new twist with football-related activities as a build-up of excitement for the most anticipated international football tournament. The festival will also feature dazzling Eid Al-Adha celebrations for all members of the family to enjoy. 
A wide array of international award-winning shows and football centric activities for adults and children will take place in two locations at the mall, the Centre Court featuring a broad array of activities and attractions catering toward all the family, while the Entertainment Node will host children's activities, with multiple entertainment options to bring smiles to their faces.
 
The Centre Court on the ground floor will feature entertaining shows all month long at three timings i.e., 5:00, 7:00, and 9:00 pm by several world-class performers, including bubble blowers, glass balancers, hoola hoop performers, storm troopers, and shadow artists. The stage shows will also feature a team of Kitchen Dancers, where entertainers wearing chef uniforms will perform juggling stunts using kitchen tools and utensils, in addition to a group of international football freestylers who will wow the crowds with their football juggling skills and tricks. Football fans will have plenty of fun options to engage in the game like foosball and virtual reality games from 10:00 am to 11:00 pm. There will also be a registration booth by Supreme Committee to onboard volunteers. 
 
The children's entertainment corner at the Entertainment Node will be offering arts and crafts activities, face painting, balloon twisting, and special kids' shows every weekend. Children will also have the chance to meet and greet their favourite cartoon characters. Additional activities such as henna painting and balloon shows will be available during the Eid period. The children's entertainment corner is open every day from 3:00 pm to 11:00 pm. 
 
Furthermore, Eid Al Adha will be celebrated throughout the mall with interactive parades by stilt walkers who will make rounds to the delight of children and adults for five days. 
Read also: Doha Festival City Announces Thrilling Summer Festival with Exciting Activities for the Family
Date: June 16 - July 16, 2022
Timing: 03:00 pm - 11:00 pm
The Centre Court -
Timings: 5 pm, 7 pm, and 9 pm
The Entertainment Node -
Timing: 3 pm to 11 pm
Location: Doha Festival City
Price: FREE
Contact: 4035 4444
5. Resort Pool and Beach Access
Qatar's latest leisure destination provides an unforgettable and relaxing adventure like nowhere else as you take a break from all the stress and noise of city life.
You can relax in a private cabana at the pool, or let the kids enjoy the splash pad while you unwind. You don't have to worry because lifeguards are on duty from 8 am to sunset and towels are provided.
The private beach sprawls 3.5kms and is an unspoiled paradise of crystal clear waters. Imagine lounging on the beach, soaking in the early morning sun, and listening to the calming waves.
Date: Ongoing until March 31, 2022
Tiiming:  3:30PM Onwards
Location: Hilton Salwa Beach Resort and Villas
Ticket Booking: Book now at www.q-tickets.com. 
Terms & Conditions
• Children below the age of 3 years are free.
• 3 years and above are chargeable at the advertised rates.
• Changing rooms are available and towels will be provided.
• Gym and Kids Club access is not included, however access to the Kids Club is available at the rate of QAR 75 per child, per hour.
• Waterpark Access is not included
• Bringing in Food and beverage from outside is not permitted.
• Guests are required to present a green ehteraz only for entry. Children below the ages of 12 can access the pool and beach as long as accompanying adults present a green ehteraz.
July 2, 2022 - Saturday
1. Minions 2:The Rise of Gru (Animation)
The untold story of one twelve-year-old's dream to become the world's greatest supervillain.
Watch this adventure, comedy and animation film now showing at Qatar Cinemas near you!
Book your tickets now at www.q-tickets.com.
2. The Enchanted Forest at Mall of Qatar
Step into the magical world of the Enchanted Forest.
Watch mythical characters come to life as they perform stunning mid-air acrobatic routines and weave beautiful dance choreography with mesmerizing circus acts, creating a truly fascinating show.
Dates: Ongoing until July 02, 2022
Timings: 
5:00 pm
7:00 pm
9:00 pm
Location: Oasis Stage, Mall of Qatar
Price: FREE
3. Beanstalk
Kids can't get enough of the Beanstalk adventure play area!
360 Play brings you this exciting entertainment hub designed to entertain and engage the whole family in some action-packed adventures!
Visit the Beanstalk today at the Mall of Qatar, located in front of the Food Court. Book now at www.q-tickets.com or contact 7064 4011 for more details.
Date: February 10, 2022 - February 23, 2023
Timing:  
Saturday to Wednesday: 10.00 AM to 10.00 PM
Thursday: 10 AM to 11:30 PM
Friday: 1 PM to 11.30 PM
Location: Mall of Qatar
Ticket Rates: General Pass (20 Mins) QAR 30, Premium Pass (40 Mins) QAR 50, Super Pass (1 Hour) QAR 60, and Family Pass - 1 Adult + 3 Kids (1 Hour) QAR 200
Ticket Purchase: Book now at www.q-tickets.com
4. Museum of Illusions
Enter the fascinating world of illusions that will trick you, but amaze you at the same time. It is sure to be an amazing and unimaginable experience because whatever you see in the Museum of Illusions, is not what it appears to be.
Contact Details:
Location: 1st Floor, The Gate Mall, Omar Al-Mukhtar St. Doha, Qatar
Telephone Number: +974 40206273
Email: info@museumofillusions.qa
Opening Hours:
Sunday to Wednesday (9 am – 10 pm)
Thursday And Saturday (9 am – 10 pm)
Friday (1 pm – 10 pm)
Ticket Rates:
Adult (16+ years): 80 QAR
Child (3-15 years): 60 QAR
Child (3-below): Free
Family (2 adults & 2 kids under 15 years): 220 QAR
Special Needs: 40 QAR
Ticket Bookings: www.q-tickets.com
5. Cricket for Everyone
Bravo Cricket Academy is in inviting you to the "Cricket for Everyone" sports event.
The said event is affiliated & recognized by the Deaf International Cricket Council & Qatar Cricket Association.
Event Details:
Date: Ongoing until December 31, 2022
Timing: 4:00 PM Onwards
Location: Ezdan Oasis B Block, Al Wukair, Doha - Qatar
Ticket Bookings: Book now at www.q-tickets.com
One time Registration – QR 200 (Uniforms will be provided)
Kids Sessions – Every week Thursday / Friday / Saturday
Timing – Kids Session:
Batch 1 – 4.00pm – 6.00pm – QR 400/-
Batch 2 – 6.00pm – 8.00pm – QR 400/-
Seniors – Open all 7 days
4 Sessions one on one – QR 400/
8 Sessions one on one – QR 700/