Things to do in Qatar this weekend: June 23-25, 2022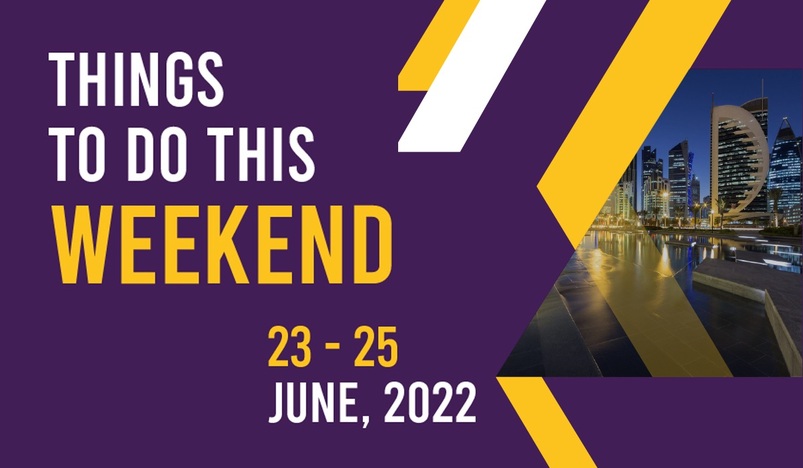 Where to go and what to do this weekend in Qatar
Check out our top picks for Things to Do in Qatar from June 16-18, 2022 below.
Note: Events are subject to change as per the organizers. Follow the COVID-19 measures in place to ensure yours and others' safety.
June 23, 2022 - Thursday
1. The Enchanted Forest at Mall of Qatar
Step into the magical world of the Enchanted Forest.
Watch mythical characters come to life as they perform stunning mid-air acrobatic routines and weave beautiful dance choreography with mesmerizing circus acts, creating a truly fascinating show.
Dates: June 23 - July 02, 2022
Timings: 
5:00 pm
7:00 pm
9:00 pm
Location: Oasis Stage, Mall of Qatar
Price: FREE
2. InsurTech MENA Summit 2022
The InsurTech MENA momentum has arrived. We're gathering people from all horizons to accelerate this movement. Join us at this 1-day conference where InsurTech start-ups, a driving force of the ecosystem, will be under the spotlights.
You will witness innovations, trends and insights around insurance in the region and will have a chance to network with leading entrepreneurs and insurance thought leaders.
The event is organized by Qatar Insurance Company, QIC Digital Venture Partners, Deloitte, Google Cloud & Qatar Financial Center.
Date: June 24, 2022
Timing: 8:00PM Onwards
Location: Magnum Hotel and Suites West Bay
Ticket Prices: 361 QAR Startup Tickets (USD 99), 1,453 QAR General Tickets (USD 399), and 3,638 QAR VIP Tickets (USD 999)
Ticket Booking: Book now at www.q-tickets.com
Startup Tickets
• Access to Summit
• Free Food & Beverage
General Tickets
• Access to Summit
• Free Food & Beverage
VIP Tickets
• Access to Summit
• Free Food & Beverage
• Access to the VIP Lounge
• Discount on Hotel Room
Agenda Topics:
InsurTech Panel - "Insurtech leader perspective – The rise of start-ups"
Mobility Panel - "The power of motor insurance in the MEA region"
Venture Capital Panel - "Follow the money – How InsurTech VCs invest"
Digital Health Panel - 'Digital Health & Insurance – a winning combination?'

3. Turtle Hatching at Fuwairit Beach
Dadu, Children's Museum of Qatar, in collaboration with the Ministry of Environment and Climate Change (MOECC) with the support of the Qatar Natural History Group, invites Qatar Museums' Culture Pass Family members on field trips to observe the hatching of the hawksbill turtle as part of the Qatar Turtle Project at Fuwairit Beach.
This year's edition of Turtle Encounters is focused on giving children the opportunity to enjoy the annual hatching phase of the hawksbill turtle - classified as an endangered species by the International Union for Conservation of Nature in 1982 - along Qatar's coastline. The hatching phase takes place each year from the beginning of June until the end of July. 
Dates: June 23, 28, 30 and July 5, 7, 12
Timing: 8pm to 9pm 
Admission: Culture Pass Family members can sign up for the Turtle Encounters (For the safety of participants and the marine life, spaces are limited for each visit. Culture Pass Family members will receive the registration link for Turtle Encounters through the members newsletter)
As part of Turtle Encounters, participating Culture Pass Family will visit the turtle nesting site on Fuwairit beach before participating in a beach cleanup. During the experience, visitors will watch a team of environmental conservationists collect, count and measure baby turtle hatchlings before releasing them into the sea.  

June 24, 2022 - Friday
1. Mirchi Musically High
Mirchi is all set to Celebrate "World Music Day" in the most special way by having listeners go musically High with Mirchi RJs & Club Mirchi! - A Night Full of Music and Entertainment to make you High with Music and Music all around!
Date: June 24, 2022
Timing: 8:00PM Onwards
Location: Magnum Hotel and Suites West Bay
Ticket Price: 50 QAR
Ticket Booking: Book now at www.q-tickets.com
 

2. The 'Tamilmagan Awards 2022

 
The 'Tamilmagan Awards 2022—the biggest ever NRI Tamil cultural event in Qatar' will take place in Al Arabi Indoor Stadium on Friday, June 24, 2022, from 5.00 pm to 10.00 pm.
According to a very old Tamil saying, 'go forward and business across the oceans to gain your fortunes,' Tamils have made money working across the ocean since ancient times. Furthermore, many Tamils continue to work in other countries, bringing honour to both their homeland and our motherland. The Tamilmagan award is given to such people to honour them. The Tamilmagan award is given out in 14 distinct categories by an expert panel.
Tamilmagan awards are held with movie stars and their incredible performances. The show will feature a number of well-known actors, singers, and other prominent Tamils, including Mr. Robo Shankar, a well-known actor. Aside from that, this colourful festival will feature a variety of cultural programs by a number of Indian cultural groups in Qatar.
Be ready to witness the largest-ever NRI Tamils Awards Show!
Date: June 24, 2022
Timing: 5:00PM Onwards
Location: Al Arabi Sports Club
Ticket Prices: 30 QAR (Bronze), 50 QAR (Silver), and 100 QAR (Gold)
Ticket Booking: Book now at www.q-tickets.com
3. Elvis Presley's Movie
From his childhood in Tupelo, Mississippi to his rise to stardom starting in Memphis, Tennessee and his conquering of Las Vegas, Nevada, Elvis Presley becomes the first rock 'n roll star and changes the world with his music.
Watch this biography, drama and musical film now showing at Qatar Cinemas near you!
Book your tickets now at www.q-tickets.com.
3. Beanstalk
Kids can't get enough of the Beanstalk adventure play area!
360 Play brings you this exciting entertainment hub designed to entertain and engage the whole family in some action-packed adventures!
Visit the Beanstalk today at the Mall of Qatar, located in front of the Food Court. Book now at www.q-tickets.com or contact 7064 4011 for more details.
Date: February 10, 2022 - February 23, 2023
Timing:  
Saturday to Wednesday: 10.00 AM to 10.00 PM
Thursday: 10 AM to 11:30 PM
Friday: 1 PM to 11.30 PM
Location: Mall of Qatar
Ticket Rates: General Pass (20 Mins) QAR 30, Premium Pass (40 Mins) QAR 50, Super Pass (1 Hour) QAR 60, and Family Pass - 1 Adult + 3 Kids (1 Hour) QAR 200
Ticket Purchase: Book now at www.q-tickets.com
5. Museum of Illusions
Enter the fascinating world of illusions that will trick you, but amaze you at the same time. It is sure to be an amazing and unimaginable experience because whatever you see in the Museum of Illusions, is not what it appears to be.
Contact Details:
Location: 1st Floor, The Gate Mall, Omar Al-Mukhtar St. Doha, Qatar
Telephone Number: +974 40206273
Email: info@museumofillusions.qa
Opening Hours:
Sunday to Wednesday (9 am – 10 pm)
Thursday And Saturday (9 am – 10 pm)
Friday (1 pm – 10 pm)
Ticket Rates:
Adult (16+ years): 80 QAR
Child (3-15 years): 60 QAR
Child (3-below): Free
Family (2 adults & 2 kids under 15 years): 220 QAR
Special Needs: 40 QAR
Ticket Bookings: www.q-tickets.com
June 25, 2022 - Saturday
1. Northern European Impressions by Grieg and Sibelius
The program includes Sibelius' most enduring work "Finlandia" the symbol of ending struggle for nationhood, in addition to the universal favorites with its bright and cheery character "Peer Gynt, Suite No 1" by Edvard Grieg. The program ends with the romantic and memorable melodies of Sibelius' Symphony No.2.
Join the Philharmonic for a memorable evening. Below are the event details:
Date: June 25, 2022
Timings: 7:30PM Onwards (The show is 2 hours including the break)
Location: Katara Cultural Village, Opera
Ticket Prices: 175 QAR Front Orchestra - (7:30PM), 200 QAR Center Orchestra - (7:30PM), 125 QAR Side Orchestra - (7:30PM), 125 QAR Middle Orchestra - (7:30PM), 125 QAR Upper Orchestra - (7:30PM), 200 QAR 1st Balcony - (7:30PM)  Note: 2nd & 3rd Balcony tickets are SOLD OUT
Ticket Booking: Book now at www.q-tickets.com
Please note that attendees will be only admitted if the Ehteraz status is Green.
Tickets must be purchased online. There are no refunds or exchanges. Under 6's will not be admitted into the venue. All attendees must wear a face mask at all times, maintain a social distance of 1.5 meters, present a green Ehteraz status, and have a temperature reading of less than or equal to 37.8 degrees Celsius to be admitted into the venue. Audience members will be guided to their seats by a QPO representative. Allocated seats by organisers must not be changed for health and safety reasons. Anyone not complying with the Ministry of Public Health's Covid-19 guidelines will be ejected from the venue. Doors close promptly at concert commencement. Out of respect for the musicians and fellow audience members please silence your mobile phones and refrain from flash photography. Seating begins 30 minutes before performances. Latecomers cannot be seated during the concert. If an audience member leaves the venue during the concert, they will be reseated at the closest available seat to the exit upon re-entry. The Philharmonic retains the right to expel anyone disturbing other concertgoers. Food and beverages cannot be consumed in the venue (water only). The Philharmonic accepts no personal liability of any sort. Programmes and artists are subject to change. To avail mentioned discounts, individuals will have to show their student, staff or disability cards/tags.
Gate Rules
Green Ehteraz status must be shown before admission and a face mask must be worn for the duration of the concert.
Audience members must present their tickets for inspection before being allowed entry into the venue.
4. Thrilling Summer Festival at Doha Festival
Doha Festival City, Qatar's one and only choice for shopping, dining, and entertainment announces preparations for its Summer Festival 2022 showcasing an exclusive line-up of international entertainment performances and engaging children's activities. Visitors and shoppers are invited to join in the festivities at the Mall between the 16th of June and 16th of July.
 
This year's Summer Festival will take a new twist with football-related activities as a build-up of excitement for the most anticipated international football tournament. The festival will also feature dazzling Eid Al-Adha celebrations for all members of the family to enjoy. 
A wide array of international award-winning shows and football centric activities for adults and children will take place in two locations at the mall, the Centre Court featuring a broad array of activities and attractions catering toward all the family, while the Entertainment Node will host children's activities, with multiple entertainment options to bring smiles to their faces.
 
The Centre Court on the ground floor will feature entertaining shows all month long at three timings i.e., 5:00, 7:00, and 9:00 pm by several world-class performers, including bubble blowers, glass balancers, hoola hoop performers, storm troopers, and shadow artists. The stage shows will also feature a team of Kitchen Dancers, where entertainers wearing chef uniforms will perform juggling stunts using kitchen tools and utensils, in addition to a group of international football freestylers who will wow the crowds with their football juggling skills and tricks. Football fans will have plenty of fun options to engage in the game like foosball and virtual reality games from 10:00 am to 11:00 pm. There will also be a registration booth by Supreme Committee to onboard volunteers. 
 
The children's entertainment corner at the Entertainment Node will be offering arts and crafts activities, face painting, balloon twisting, and special kids' shows every weekend. Children will also have the chance to meet and greet their favourite cartoon characters. Additional activities such as henna painting and balloon shows will be available during the Eid period. The children's entertainment corner is open every day from 3:00 pm to 11:00 pm. 
 
Furthermore, Eid Al Adha will be celebrated throughout the mall with interactive parades by stilt walkers who will make rounds to the delight of children and adults for five days. 
Read also: Doha Festival City Announces Thrilling Summer Festival with Exciting Activities for the Family
Date: June 16 - July 16, 2022
Timing: 03:00 pm - 11:00 pm
The Centre Court -
Timings: 5 pm, 7 pm, and 9 pm
The Entertainment Node -
Timing: 3 pm to 11 pm
Location: Doha Festival City
Price: FREE
Contact: 4035 4444
5. Cricket for Everyone
Bravo Cricket Academy is in inviting you to the "Cricket for Everyone" sports event.
The said event is affiliated & recognized by the Deaf International Cricket Council & Qatar Cricket Association.
Event Details:
Date: Ongoing until December 31, 2022
Timing: 4:00 PM Onwards
Location: Ezdan Oasis B Block, Al Wukair, Doha - Qatar
Ticket Bookings: Book now at www.q-tickets.com
One time Registration – QR 200 (Uniforms will be provided)
Kids Sessions – Every week Thursday / Friday / Saturday
Timing – Kids Session:
Batch 1 – 4.00pm – 6.00pm – QR 400/-
Batch 2 – 6.00pm – 8.00pm – QR 400/-
Seniors – Open all 7 days
4 Sessions one on one – QR 400/
8 Sessions one on one – QR 700/