QRCS Strengthens Ties with Al Quds Fund and Endowment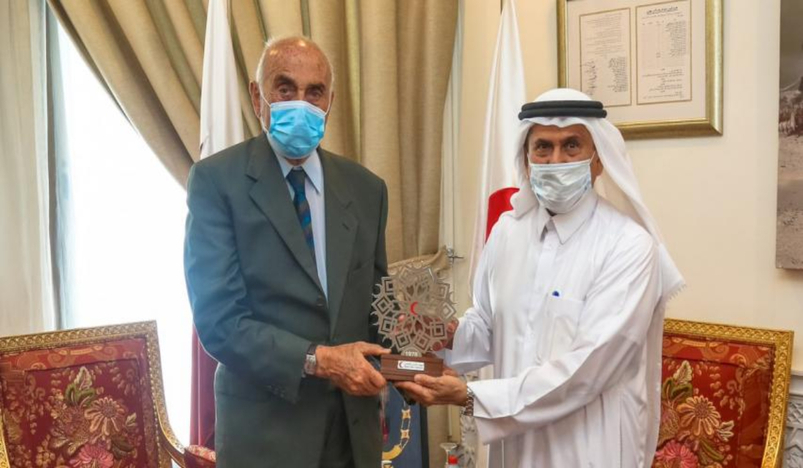 QRCS
HE Secretary-General of Qatar Red Crescent Society (QRCS) Ambassador Ali bin Hassan Al Hammadi met with a delegation from Al Quds Fund and Endowment, headed by Munib Rashid Al Masry, Chairman of the Board of Directors.
The meeting focused on discussing ways of humanitarian cooperation to support the steadfastness of Jerusalemites and provide for their living needs. The guests thanked QRCS for its distinguished efforts and achievements for the benefit of the Palestinian people in the city of Jerusalem, the West Bank, and the Gaza Strip, expressing their deep sorrow over the bombing of its representative office in Gaza during the recent Israeli aggression on the Strip.
It also highlighted the firm role of the State of Qatar in supporting the Palestinian cause, through the close humanitarian cooperation between QRCS and the Palestinian Red Crescent Society, under the umbrella of the International Red Cross and Red Crescent Movement. This cooperation included the support for Al Makassed Islamic Hospital, the provision of ambulances, the repair of homes, and the economic empowerment of needy families.

Al Quds Fund and Endowment is an independent development body established in 2015, as an initiative aimed at empowering and strengthening the steadfastness of the Palestinian people in Jerusalem and working to achieve development in the various sectors in the Holy City, in a manner that preserves the national identity and Palestinian steadfastness in Jerusalem.
(QNA)