Qatari Players Shine in West Asian Table Tennis Championship with 3 Qualifying for Asian Cup Finals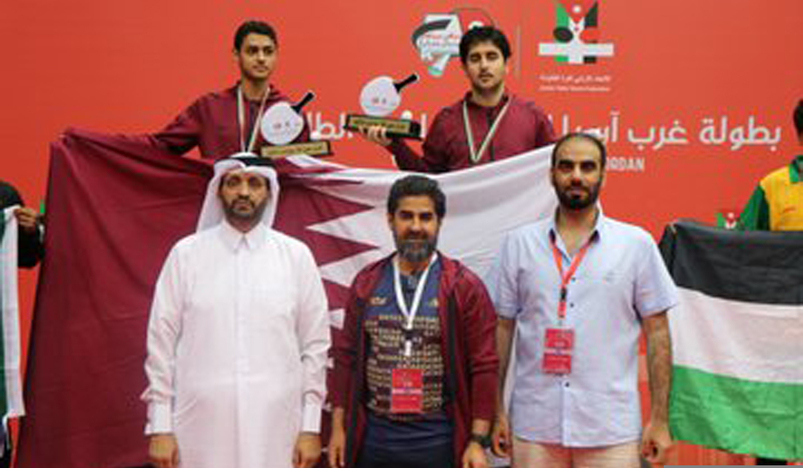 West Asian Table Tennis Championship
Qatari players continued to show performance of high-quality in the singles and doubles competitions of the West Asian Table Tennis Championship, currently taking place in Amman Jordan. The championship will continue until Monday, with three Qatari players qualified for the 2022 Asian Cup finals.
Qatars teams excelled in various competitions: the U-13 cubs, U-15 juniors, U-19 youth, and the mens teams all qualified for the semi-finals in the doubles competitions. Similarly, the U-17 youth team qualified for the doubles competition, but this time, for the finale.
As for the singles competitions, four players managed to qualify for the semi-finals, these are: Ahmad Khalil Al Mohannadi, U-13 cubs category Mohammed Al Sulaiti, as well as Sultan Al Kuwari and Ahmed Eid in the U-15 juniors category. In addition, Maryam Ali qualified for the girls U-17 singles final.
On the other hand, three players from the Qatar men's national team, Ahmed Al Mohannadi, Mohamed Abdel Wahab and Fahd Al Mughni, qualified for the Asian Nations Cup finals scheduled for late next year, after their success in qualifying for the quarter-finals of the West Asian Championship.
According to the championships schedule, tomorrow (Sunday) will witness the final rounds for the various age groups. The Qatar national team players seek to keep up their strong performance and win even more titles, as they will already return with one gold and three bronzes medals.
(QNA)