Padel Tournament to Kickstart at Doha Oasis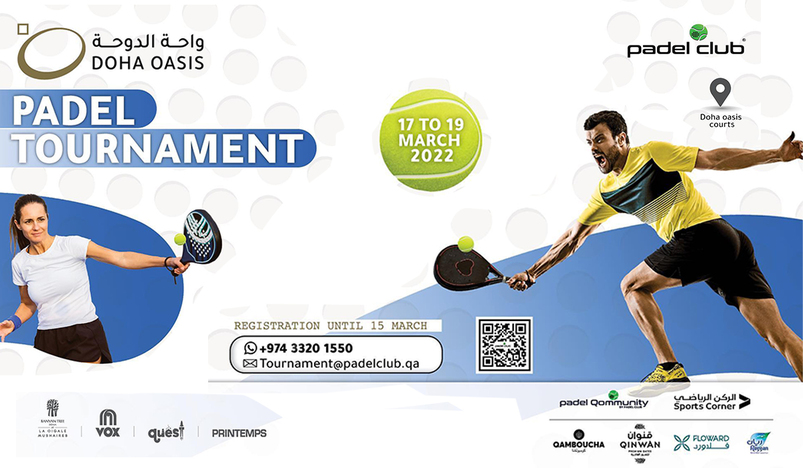 Doha Oasis is a high-end mixed-used development in the heart of Doha
Doha Oasis is pleased to announce the opening of its new outdoor Padel courts, which will open to the public on the 17th of Mar 2022, the new courts will be located outdoor, up and next to the iconic dome garden facility, it will compromise of three double player courts that are open to the general public and can be booked using Doha Oasis Padel App or website. 
To celebrate the opening of the new courts, Doha Oaisis announced a partnership with Padel Club to launch the first Padel Tournament at Doha Oasis.
The competition will be open to all players of all levels, with 5 categories for men, women, and mixed teams. Players will enroll in pairs to compete against other teams, they will connect and socialise in a safe environment following all the health & safety guidelines set out by the local authorities.
The tournament elimination phase will take place between March 17 to 18, and the top pairs from each of the categories will qualify for the final phase, which is scheduled to take place on March 19th.
"Qatar established itself as a world-class distention for sport and athletes, and we are proud to showcase our commitment to the social wellbeing of both our residents and the general public of Qatar by the introduction of this state of the art courts to be at the service of Qatari's citizens and residents. We are happy to see a series of entertaining matches and to see our guests competing in a healthy environment and enjoying their time with their family and friends here at Doha Oasis" Said Victor Agha, CEO of Doha Oasis.
"We are happy to organize one more tournament in Qatar and happy to cooperate with Doha Oasis on this event. It's a new location on the map of Padel in Qatar and we hope that after the tournament more people will come to play there. We are sure the event will be of great success thanks to the support of our team, our partners, and sponsors." Said Carla Pregigueiro, CEO of Padel Club.
"Doha Oaisis is keen on its mission to bring up the level of the tournaments in Qatar giving all the participants an opportunity to enjoy the game and a unique atmosphere around, to motivate them to practise sports and to socialise, especially after hard period of Pandemic. 
It is our forth Tournament and we are happy to provide an opportunity for people to compete, meet new friends, enjoy an event. We are happy to partner up with Doha Oasis this time to deliver this event. We believe people will enjoy participating as much as we enjoy organising it." Said Natalia Mikhalchenkova, the Organising Director of Padel Club.
Source: Doha Oasis