Lusail Winter Wonderland to open in Qatar in 2022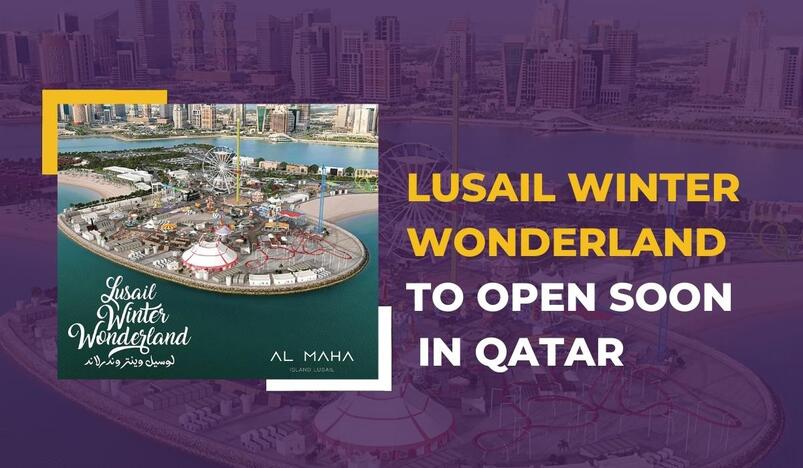 Lusail Winter Wonderland
Have you heard about the new theme park that will open soon in Qatar? Lusail Winter Wonderland is the ultimate entertainment destination for all residents and visitors in Qatar to go to! Be excited about this amusement park set to open this winter, as it is going to blow your mind away with its various rides and attractions. Read this article to find out everything you need to know about Lusail Winter Wonderland.
About Lusail Winter Wonderland
Lusail Winter Wonderland is a joint project between Qatari Diar, Qatar Tourism, and Elegancia Group which is located at Al Maha Islands near Lusail City. It is a 200,000 sq. venue with six areas of attractive rides and games. A total of 50 jaw-dropping rides out of which 10 thrill rides, 25 family rides, and 15 children's rides will be hosted by this Winter Wonderland. 
This amusement park will go beyond your expectations of giving a luxurious amusement park experience as it will not just have rides and attractions but will also include seafront chalets, marine sports, carnival games, an ice rink, an area for parties and events, and kiosks offering a wide range of food and beverage options.
The festivities do not end there as there are various other attractions in Al Maha Islands which include a concert venue with a 7000-seating arrangement. It will host the Global Music Festival, 34 live events annually, and will bring international and regional superstars to world-renowned DJs, singers, and comedians. The program of the music festival will be coming out by August 2022.
With 1.5 million people expected to visit this world-class theme park annually, it is set to be an important leisure destination that will contribute significantly to attracting regional tourists and enhancing the tourism and entertainment experience in Qatar. Moreover, it is one of the most anticipated leisure and tourism hotspots that will open this November, right before the FIFA World Cup 2022 for visitors in Qatar to have an unforgettable festive experience during their stay.
The Ooredoo 5G Rollercoaster
One of the most sensational rides for all the thrill-seekers includes the roller coaster, which will be named The Ooredoo 5G, as Ooredoo, the pioneer of high-speed mobile internet, is set to be one of the main sponsors of the event. The signing ceremony between Ooredoo and Estithmar Holding Q.P.S.C. was held last June 23 at Ooredoo Tower in West Bay, Doha.. The agreement was signed by Moza Khalid Al-Muhannadi, Director CSR, Sponsorship and Media at Ooredoo, and Henrik Christiansen, Group Chief Executive Officer of Estithmar Holding Q.P.S.C, in the presence of Sheikh Mohammed Bin Abdulla Al Thani, Deputy Group Chief Executive Officer and Chief Executive Officer of Ooredoo Qatar, Sheikh Nasser Bin Hamad Bin Nasser Al Thani, Chief Commercial Officer of Ooredoo, and Mr. Moutaz Al Khayyat, Chairman of Estithmar Holding Q.P.S.C.
With this collaboration, both enterprises will cross over significantly in their social media activities. This means, for instance, future viewers of Ooredoo content will be able to see exclusive materials created and filmed at the world-class entertainment destination.
In addition to that, other thriller rides include Space Gun, Drop n' Twist Tower, and the Vertical Swing. This place also has many rides to offer for children of all ages and families to enjoy together such as Bumper Cars, Mini Disco, The Galleon, and a giant 150 ft Ferris Wheel. There will be plenty of options available for young children such as the Pony Adventure, Air Balloon, Circus Swing, and many more.
"We are pleased to partner with Ooredoo and welcome their significant contribution to sponsor Lusail Winter Wonderland, the unique attraction expected to attract tourists from around the world. We believe that our world-class hospitality and entertainment projects improves the tourism and entertainment experience in Qatar, and diversify the options for the community and tourists. Estithmar Holding aims to be an active contributor to the growth of tourism internally, and to consolidate Qatar's position on the global tourism scene," said Christiansen.
For his part, Al Muhannadi stated: "We are delighted to be working with Lusail Winter Wonderland as one of the main sponsors. Qatar is fast becoming one of the most popular tourist destinations in the world, and we are always excited to see new attractions being added to the already extensive list of tourist and leisure destinations in our country. With the Ooredoo name prominently displayed at the venue, the naming of The Ooredoo 5G and the on-site Ooredoo booth, this sponsorship represents an excellent opportunity for continued customer engagement." 
The theme park will be managed and operated by IMG, a global leader in events and media and the producer and operator of London's famous Hyde Park Winter Wonderland and owner of other major global events.
Keep an eye out on www.qatarday.com for the latest updates about upcoming events in Qatar and more information about the Lusail Winter Wonderland.