Local foods in Qatar and where to find them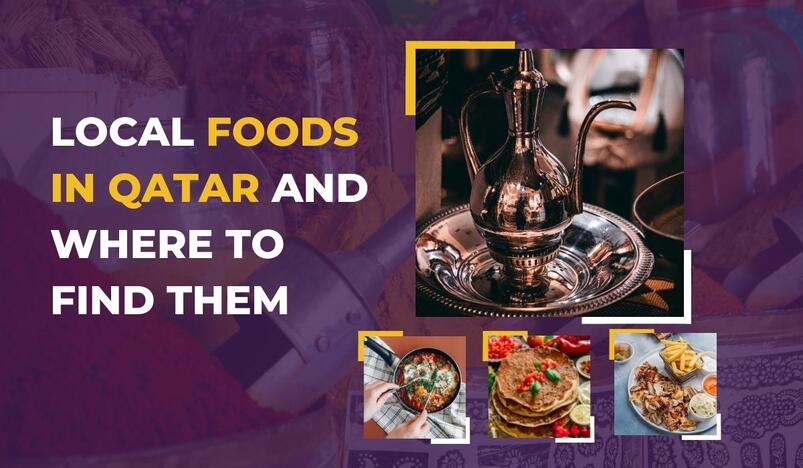 Local foods in Qatar
Whether you are a resident or just visiting Qatar, you need to try the amazing local food of this country. Qatar is known for its love of food and its authentic cuisines that you must give it a shot. You might have tried before or at least heard of some of their traditional cuisines like the Machboos (which is a meal that consists of rice and protein and potatoes), Madroba (which is mashed rice with finely cut chicken), Harees (like Madroba but with different seasoning and includes wheat), Thareed (which is a meat broth and vegetables made with bread) and many more of the local dishes. In this article, you will learn about the different types of local food found in Qatar. You will also discover where you can find the best experience of traditional Arabic food.
Belkhams
Image description: Chicken machboos (chicken and rice made with traditional Arabic spices and authentic flavors). 
Belkhams is one very well-known local traditional food restaurant in Qatar. It is extremely unique due to the fact that it is an order-only restaurant where no dine-in is available. It gives a very authentic food experience as it is operated from the owner's house and can be ordered through delivery apps or from his house directly. The name of the restaurant, "Belkhams" means "with 5 fingers" which is a traditional way to eat food in Qatar, by using hands. 
The restaurants' must-try dishes are Meat Machboos, Chicken Machboos, Prawn Machboos, and Rib Machboos. It can be ordered either through the Talabat app or WhatsApp. 
Contact: 50117011
Timing: 11 am – 9:30 pm
Google Maps 
Souq Waqif: Homemade Food Section 
When you visit Souq Waqif, the oldest marketplace in the country, with its amazing architecture and multipurpose shops, on your journey you will run into local women sitting by the streets selling food. These women sell authentic Qatari dishes that they either make at home and bring there to sell or sometimes make it over there itself like a live cooking station. This gives a traditional and rich experience to feel the local Qatari food vibe. There will be a ton of food stands where you just let your sense of smell decide which one to choose from, based on the food aroma. With this kind of food experience, you learn a lot about Qatar's history. One of the must-try dishes over there is the Rogag which is a type of crepe that can be filled with Nutella, cheese, honey, or any of the toppings that are available. Another item that you need to try is the Luqaimat which is a type of dessert that looks like small round balls made of fried dough covered in honey or sugar syrup.  
Timing: 4 pm - 11 pm
Google Maps 

Image description: A Qatari lady making Rogag, a traditional Arabic crepe that is popular street food in Souq Wakif. 
Shay Al Shoomos
While we are talking about Souq Waqif another great experience that you must try is a little café known as Shay Al Shoomos, famous for attracting royalty and celebrities with its special food items such as Rogag and Balaleet (egg with vermicelli and rose water) which is a local favorite breakfast that is a must-try for everyone. With its amazing setup and location, you wouldn't want to miss this experience.
You also need to try the Arabic traditional coffee which is a special coffee made with cardamon and saffron. It has a really strong and beautiful aroma and a taste that is very unique among all the different coffees that you might have tried before and is usually served with a date. If saffron and cardamon are not something you prefer, then you can try their signature Turkish coffee which is served either with a date or a piece of chocolate. 
Contact: 55515561
Timing: 7:30 am - 1 pm and 6:30 pm - 10 pm
Google Maps
Image description: Owner, Shams Al Qassabi serving shakshuka which is a Qatari-styled scrambled egg.
Karaki 
One of the most well-known Qatari tea lounges that still offer traditional items is Karaki, a  highly recommended place to visit, especially the branch in the pearl. It has the best seating arrangement and has the most beautiful view among all their branches. Having a traditional cup of Karak (a special kind of tea made with milk and spices) with Luqaimat in this perfect location is an experience that you wouldn't get anywhere else. The drive between all the amazing scents is an experience you will never forget.
Image description: Lokma or luqaimat (meaning small bites), a traditional Arabic sweet made from fried dough served with chocolate and Karak (tea).
Another thing that you need to try at Karaki is Umm Ali which is a delicious dessert that has bread pudding, sweetened milk, raisins, nuts and sometimes it may be even topped with cinnamon. It is originally an Egyptian dish however Qatar has its own version which is similar to it but has 1 or 2 additional ingredients. It is one of the best-selling traditional desserts here in Qatar. You may also want to try their signature Muhalabiya which is a middle eastern milk pudding that has a slight flavor of rose water. It is one of my personal favorite desserts at this restaurant. It tastes similar to pudding but has a unique Arabic touch to it because of the addition of rose water. 
Contact: 44378477
Timing: Open 24/7
Google Maps
Um Abdelaziz 
Um Abdelaziz is located in Souq waqif as well and has a unique classical Arabic majlis style seating. It is always filled with people of all ages and is known to have really good Shaqshouqa which is eggs with tomato and is a famous Qatari breakfast. You may also want to try Khanfaroosh which is a small desert cake that has cardamom and saffron and is usually served with tea. It is usually topped with sugar icing and is fried. Um Abdelaziz is known for its reasonable prices, high-quality foods, and snacks, and is open 7 days a week.  
Timing: 4 pm - 12 am
Google Maps
Image description: Saffron-flavored Khanfaroosh, a traditional Arabic tea time snack. 
Try these amazing restaurants in Qatar that will serve you the best local foods in Qatar.