Coming to Qatar Soon? Check out this New 'Interactive COVID-19 Travel Guide' Before Travelling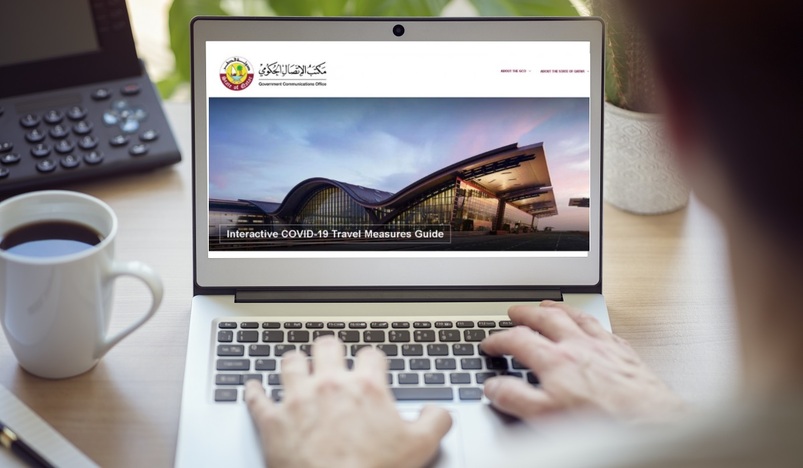 The New Interactive COVID-19 Travel Measures Guide in Qatar
Good news to all passengers travelling to Qatar! It's now easier for you to understand the required documents and travel preparations when entering the country — thanks to the new "Interactive COVID-19 Travel Measures Guide" by the Government Communications Office (GCO).
The goal of launching this service is to make it faster and smoother for travelers arriving at all ports of entry into the State by knowing their travel requirements prior to travelling.
Use this guide to find out what regulations you must follow to enter Qatar. How? Follow these steps:
1. Visit https://www.gco.gov.qa/en/travel/.
2. Answer the questions by ticking the correct options. For example:
3. Click "Submit" after answering all questions.
4. You will be redirected to a list of travel requirements or guidelines for you to comply with upon travelling to Qatar, including:
• COVID-19 RT-PCR test
• Ehteraz website (www.ehteraz.gov.qa) registration
• Ehteraz app installation
• Quarantine exemption or non-exemption
• Vaccination certificate
• COVID- 19 recovered patient advice
For example:
• Conditionally approved vaccines (with further instructions).
5. You will also find "Country-Specific Results." Note: Countries are classified into 3 categories – green, yellow and red.
This ultimate travel guide by GCO will help you plan for your next trip to Qatar with the exact requirements and preparations you need.
It also serves as a one-stop, centralized platform for all your travel-related inquiries, thereby eliminating the need to contact several helplines and verify information via different networks.
The launching of this latest online travel support comes just in time with the resumption of tourist and family entry visa issuance in Qatar, since July 12, 2021.
Qatar's New Travel Policy
• Qatar is now issuing Family Visit and Tourists Visas following the announcement of the Ministry of Interior (MoI) on July 8 this year.
• As of July 12, 2021, the resumption of issuing tourist and family entry visas has been implemented. Furthermore, there is a new travel policy that came into effect on the same day.
• Under the latest policy, vaccinated people from all countries are exempted from quarantine. Countries are classified into 3 categories – green, yellow and red. Vaccinated people coming from the red list are required to have repeat RT PCR on arrival.
• If coming from green list countries then adults including pregnant women, lactating mothers and 75 years old and above will need home quarantine for 5 days.
• Passengers coming to Qatar from all ports will have to pre-register on the "Ehteraz" website (www.ehteraz.gov.qa) and attach all the required documents before arriving in Qatar for a period of no less than 12 hours. 
Note: In order to facilitate entry procedures into the country, the online pre-registration on Ehteraz website (www.ehteraz.gov.qa) has now become optional for citizens and residents. However, pre-registration is still mandatory for visitors (12) hours before travel to obtain a travel permit.
• No quarantine required for Qatari citizens and residents including GCC citizens who are currently QID holder if fully vaccinated with an approved vaccine or diagnosed and recovered from COVID-19 (within 9 to 12 months) in Qatar, or in other member states of the GCC provided that the latter received at least 1 dose of any of the MOPH-Qatar recognized vaccine.
List of MOPH-Qatar Recognized Vaccines
1. Pfizer BioNTech 
2. Moderna
3. Oxford-Astrazeneca 
4. Janssen/Johnson & Johnson (One Dose)
Persons who have been partially vaccinated (one dose of two doses), vaccinated with full course but did not complete a period of (14) days since the 1 dose for J&J or 2nd dose for other MOPH recognized vaccines, who received vaccines not approved by MOPH-Qatar and diagnosed and recovered from COVID-19 within the last 9 months abroad (non-GCC states) will be classified into three (green, yellow and red) categories according to the country they are travelling from.
Conditional Vaccines:
5. Sinopharm
6. CoronaVac/Sinovac by Sinovac BioTech (Inactivated vaccine) Removed
Note: Travelers fully vaccinated with the above-specified conditional vaccines will be subject to an antibody test on arrival, if the result is positive with antibodies, exempted from quarantine; otherwise the traveler must undergo applicable quarantine based on the country of departure.
Qatar Family Visit Visa Now Open For More Countries
Metrash2 now accepts family visit visa applications from more countries including India, Pakistan, Sri Lanka and Bangladesh. Now residents can fill in the details and submit relevant papers via Metrash2. 
The Philippines and Nepal, which were part of the compulsory 10-day hotel quarantine requirement list, are also now available in the family visit visa list.
As per the new travel policy, people with family visit visas can travel to Qatar, provided they are fully vaccinated by a MoPH approved vaccine and they are exempted from quarantine requirements.
Whether with regard to those who have been vaccinated with vaccines approved in Qatar or those who will be subject to quarantine procedures approved in the country, everyone is required to comply with the travel requirements to limit the spread of COVID-19.
For more information, visit Qatar Travel and Return Policy guidelines via the Ministry of Public Health (MoPH) website.