HH the Amir Attends Luncheon Banquet Hosted by Spanish Prime Minister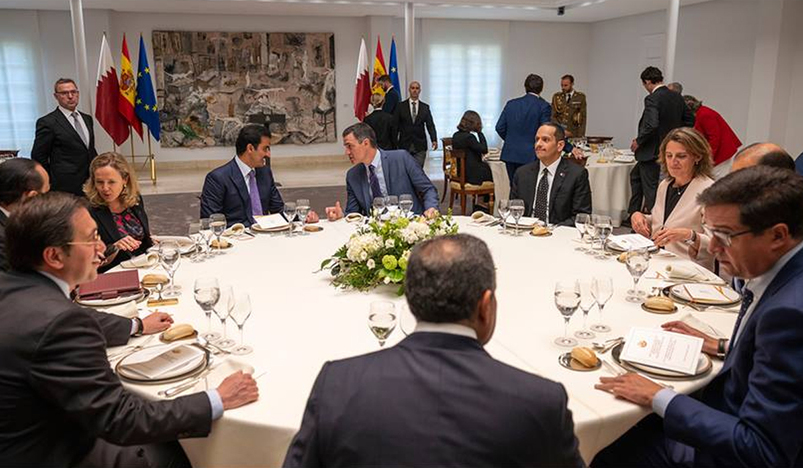 Image: QNA
HH the Amir Sheikh Tamim bin Hamad Al-Thani attended Wednesday the luncheon banquet hosted by HE Prime Minister of the Kingdom of Spain Dr. Pedro Sanchez in honor of HH the Amir and the accompanying delegation at the headquarters of the Government at the Palace of Moncloa.
Before the banquet, the Spanish Prime Minister welcomed HH the Amir, the accompanying delegation, and described his visit as historic, given it comes in the year in which the two countries celebrate the 50th anniversary of their diplomatic relations, pointing out that the state visit of His Highness to Spain reflects the interest that the Kingdom of Spain attaches to relations with Qatar. He expressed his admiration for the path that Qatar has taken in recent years under the rule of HH the Amir, wishing that the strategic relations between the two countries would develop to serve the two friendly peoples.
For his part, HH the Amir expressed his thanks to the Prime Minister for the warm reception and hospitality, and for the interest in developing the relations of the two countries, affirming that Qatar shares this interest with friends in Spain.
HH the Amir noted the friendly atmosphere that prevailed in the Qatari-Spanish talks during his visit, expressing his satisfaction that the two countries have signed a number of cooperation agreements and signed memoranda of understanding, which will contribute to the development of the growing cooperation between Qatar and Spain in the fields of education, economy, investment and energy.
His Highness pointed out that holding the Qatari-Spanish Economic Forum during the visit was an opportunity to explore more areas of cooperation.
In conclusion, HH the Amir expressed his welcome to the Spanish fans in Doha to attend the FIFA World Cup Qatar 2022, wishing the Spanish national team success.
On the Spanish side, the banquet was attended by Their Excellencies ministers and senior officials.
Source: QNA