"It's sad to say that that's someone's either daughter, mother or whatever," Matthew Haverly said in a television interview about the victim — who was his actual mother.
A local man from Bradford County, Pennsylvania, who seemed to be confused and "sad" on camera, was interviewed after a body was found in a creek near his home Thursday.
Reporters from Newswatch 16 arrived on the scene Friday where the body of a 60-year-old woman named Patricia Haverly was found the night before.
They located and interviewed an area man, Matthew Haverly, who lived across the street from Wyalusing Creek.
On camera, Matthew sounded shocked to hear what happened and that he had "no clue" as to what transpired.
"I'm like, 'What the hell is going on?' And now I realize that's what they were actually doing. I had no clue,'" he told Newswatch 16 on camera.
Matthew then openly speculated about what he thinks might have happened to the woman.
"I think it was some kind of a hit, and something happened. Something went bad, and this is like a rural area, so they just wanted to plant the body somewhere else besides wherever the hell they were from," he said.
"It's sad to say that that's someone's either daughter, mother or whatever," Matthew told the reporter. Turns out the victim was Matthew's own mother, Patricia Haverly. Police told BuzzFeed News Matthew has been charged with homicide and that they've obtained the transcriptions of his TV news interview for their investigation.
When Pennsylvania State Police identified the victim as Matthew's mother, he was arrested hours after conducting the interview with Newswatch 16.
"Shortly after speaking with Newswatch 16, troopers arrested Haverly. He's charged in his mother's murder and accused of abusing her corpse," the local channel stated.
State trooper Christopher Higdon confirmed to BuzzFeed News the station has been cooperative with police investigations and that they'd obtained a search warrant at the time they discovered he'd conducted this interview with them.
Higdon also said he and the police force already considered Matthew a primary person of interest before he appeared on camera.
"That's what made the news story so interesting to everybody," he said about Matthew's bizarre interview and reaction to the news.
Higdon said he saw Matthew's TV appearance "the way everyone else did" when the news segment ran locally. But he could not comment on what his personal reactions were to the surprise appearance.
BuzzFeed News has reached out to Newswatch 16.
Officer Higdon said the investigation is still active, and that he could not comment any further on the case.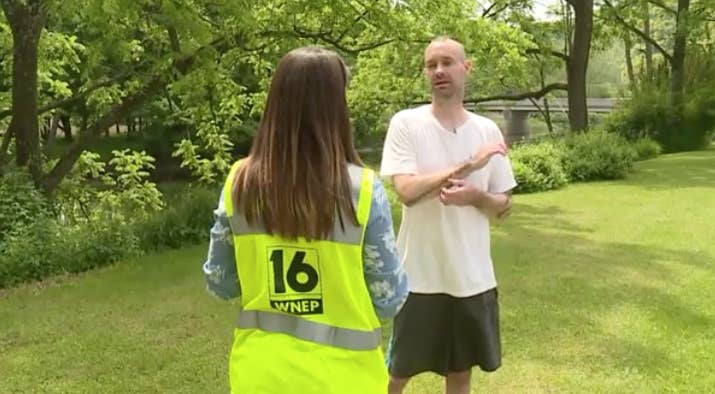 They are still awaiting official autopsy results from the Bradford County coroner.
"That's kind of weird. You got people like that running around, not good," a local resident named Mark Beattie told Newswatch 16 about Matthew.
You can watch Newswatch 16's strange interview with Haverly below: