Young Pakistani inventor invents 'smart shoes' to help blind people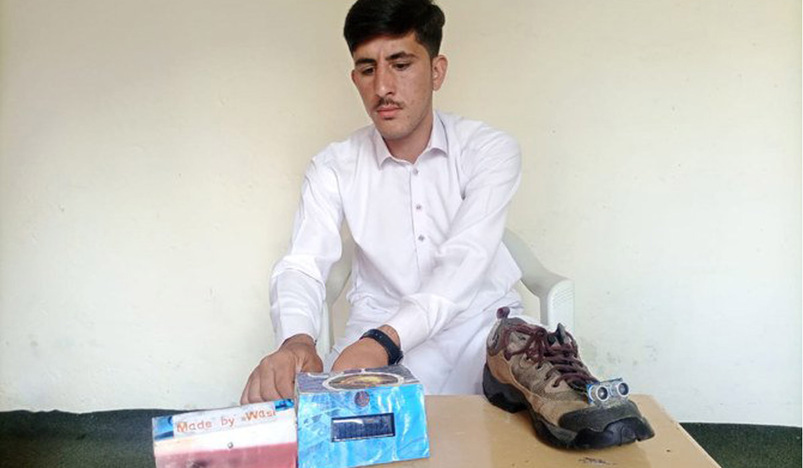 Pakistani inventor Wasiullah
A young inventor from Pakistan's northwest has designed "smart shoes" for visually impaired people that warn them with a sound or vibration about any obstacle on their path within a radius of 120 cm.
Hailing from the Swat Valley in Khyber Pakhtunkhwa province, Wasiullah, the 17-year-old inventor, told Arab News he had entered the world of innovation by repairing and fixing damaged battery-operated toys.
"Visually impaired people will no longer need walking sticks or guides after smart shoes acquire popularity," Wasiullah, who goes by a single name, said. "The shoes are fixed with an ultrasonic sensor and Arduino board to keep blind people safe while they are walking. Such individuals can get a prior notification of any looming hindrance."
Local physics teacher Muhammad Farooq said Wasiullah was his most brilliant student and that he had planned to design a new type of a wheelchair to help visually impaired people navigate their surroundings, but that he could not do it due to financial constraints.
Budget restrictions did not stifle his inventiveness, though, and when he designed the shoes earlier this year, it was reward for his perseverance.
"I still believe he has the potential to emerge as a leading scientist if he gets proper coaching and opportunity," Farooq said.
One such opportunity, which would also help Wasiullah afford higher education in the field of science, could be introducing his invention to the market.
"Smart shoes for visually impaired people are available in foreign countries," Farooq said. "But their prices are beyond the reach for many in this country. The government should own the project because the shoes Wasiullah has made are comparatively cheaper."
Mian Sayed, a social activist from Swat, has seen Wasiullah's smart shoes and is positive that they could even become an export product.
"I knew Wasiullah, who is one of the brilliant students (who) can bring laurels for the country," Sayed added. "The shoes invented by him can even be exported if the project is owned by the government."
Wasiullah said a pair of his smart shoes could cost about 4,500 rupees ($26), but he would not be able to finance production himself as he also needs to finance his college studies.
An opportunity may come from the local government.
Sajid Shah, head of the provincial directorate general of science, told Arab News the shoes will soon be evaluated by experts.
"After evaluation by our scientists," he said, "our department will promote the project of smart shoes invented by Wasiullah for commercial purposes."