State of Qatar Sends Field Hospital to Republic of Seychelles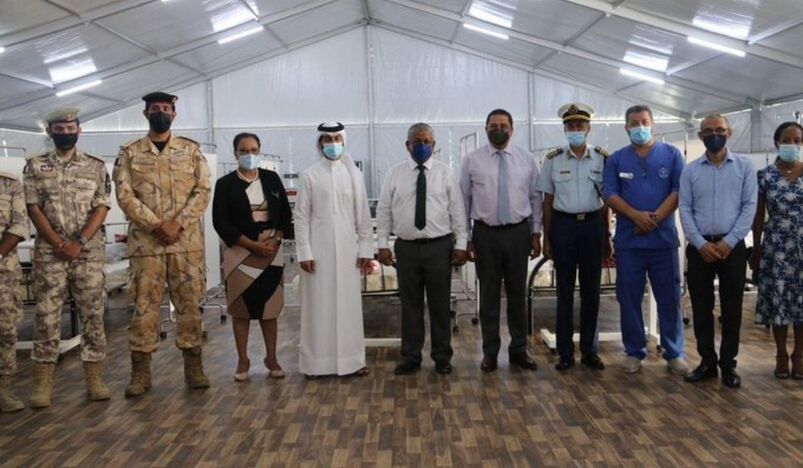 Qatar representatives
The State of Qatar, represented by the Qatar Fund for Development (QFFD) and in cooperation with the Ministry of Defense, sent a field hospital to the friendly Republic of Seychelles with a capacity of 60 beds, via an air bridge.
The hospital was received by CEO of the Health Care Agency Danny Louange, Director General of Bilateral Affairs at the Ministry of Foreign Affairs of the Republic of Seychelles Lindy Ernesta, and a number of officials from the Ministry.
The field hospital was built and inaugurated last Saturday in the presence of HE President of the Republic of Seychelles Wavel Ramkalawan and a number of senior officials in Seychelles.
This step confirms the State of Qatar's supportive stance for brotherly and friendly countries and the help it provides them in facing the repercussions of the outbreak of the Coronavirus pandemic and overcoming this crisis that has affected the world.
This necessary aid aims to support the health sector in the Republic of Seychelles and emphasize the need for this aid to reach the target groups.
On this occasion, HE Director General of QFFD Khalifa bin Jassem Al Kuwari stated that this field hospital comes to complement the great efforts made by the State of Qatar in combating the repercussions of the Coronavirus pandemic, which affected the world and created many difficulties at all levels. As a matter of joint international responsibility, the State of Qatar is at the forefront to contribute to the process of confronting this pandemic that threatens everyone. The State of Qatar, under its wise leadership, spared no effort to assist brotherly and friendly countries to contribute to limiting and preventing the spread of the pandemic, HE explained. (QNA)