QRCS Concludes Humanitarian Art Exhibition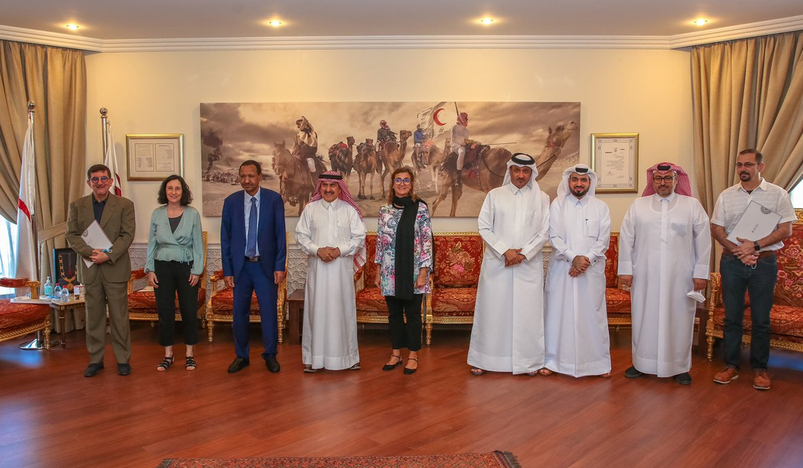 QRCS Concludes Humanitarian Art Exhibition
Qatar Red Crescent Society (QRCS) concluded the contemporary art exhibition "Humanitarian Principles: Here and Now", held from Nov.18 to Dec.6 2021, in partnership with the Embassy of Switzerland in the State of Qatar and the International Committee of the Red Cross (ICRC).
It was hosted by Katara Cultural Village, The Gate Mall, Hamad Bin Khalifa University (HBKU), and QRCS headquarters.
In his speech, the Secretary-General of QRCS Ali bin Hassan Al-Hammadi said: "Here comes the end of the Humanitarian Art Exhibition "Humanitarian Principles: Here and Now, co-held by QRCS, the Embassy of Switzerland in Qatar, and ICRC. Held in successive rounds over three weeks, the event was hosted by our local partners. With their support, it was such a great success, helping widely promote the key principles of IHL and common human values, through works of art that represent the common language spoken across nations and cultures.
He added: "This extraordinary exhibition was inspired by QRCSs active role in humanitarian diplomacy. In its legal capacity as an auxiliary to the State of Qatar in its humanitarian, development, and social efforts both locally and internationally, and as a member of the International Red Cross and Red Crescent Movement, QRCS has laudable efforts to raise awareness about disasters and crises; promote International Humanitarian Law and the four Geneva Conventions; and foster a culture of human rights, social integration, and peaceful co-existence, further maintaining international peace and security.
For her part, the Head of Doha Mission of ICRC Cherine Pollini said: " ICRC plays a complementary role to States, which have the primary responsibility for promoting IHL. Indeed, ICRC received a strong and clear mandate from States - as enshrined in the Geneva Conventions of 1949, the most widely ratified international instruments - to contribute towards the development, implementation, and promotion of IHL."
Source: QNA