QNB Stars League: Qatar SC 2 Umm Salal 2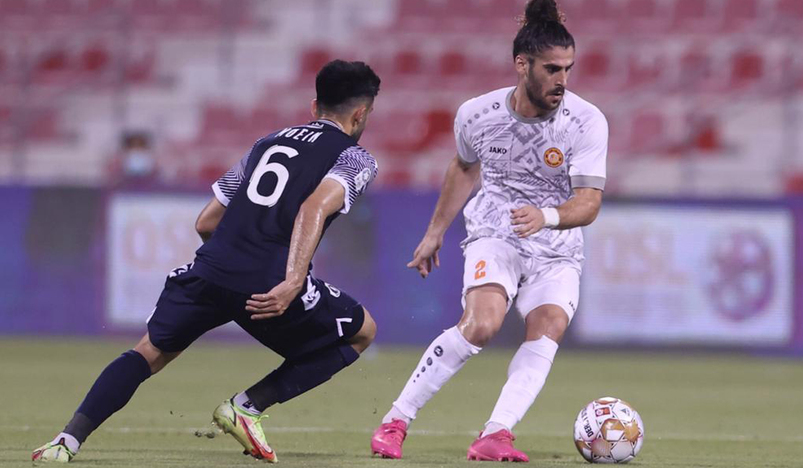 Qatar SC vs Umm Salal
Qatar SC and Umm Salal shared points after a feisty 2-2 draw in Week 6 of the 2021-2022 season QNB Stars League at the Al Arabi Stadium on Saturday.
Sebastian Soria (43rd minute) opened the scoring and his strike was followed by a goal from Bashar Rasan (45th minute) for Qatar SC who were playing their first league match under new Moroccan coach Youssef Safri, himself their former player.
In a spectacular strike off a direct corner kick, Isael Barbosa (67th minute) managed the first strike followed by Ayman Abdennours (90th minute) goal as Umm Salal wrapped up their gallant fight.
In the sixth minute, Umm Salals Khaled Abdullah, assisted by Atef Mohammed, aimed for the goal, but mistimed his jump for the deflection from close range.
A minute later, Umm Salals Ali Ferydoon charged into the Qatar SC box, but his cross from close range was slapped away by keeper Jassim Al Hail.
Three minutes later, Soria slipped in a cross to Youcef Belaili who aimed for the goal, but his low shot was blocked by Abdennour.
Barbosa attempted a solo effort in the 14th minute, but his long-range shot sailed past the Qatar SC goalpost. Ferydoon also attempted a long-range shot in the 26th minute, but was quick to apologise to his team-mates after missing the target by a fair margin.
Qatar SCs Isaac Mbenza curled in a spectacular shot from outside the Umm Salal box but the shot was parried away by keeper Khalifa Aboobacker in the 42nd minute.
Seconds later, Soria jumped high on a Khaled Ahmed cross and headed the ball into the net leaving keeper Ndiaye stunned with his athleticism from close range.
Soon afterwards, Soria hit a goalpost with a neat low shot that beat keeper Ndiaye. However, the ball bounced off the goalpost and Rasan was in close range to flick the ball into the net with his left foot to give Qatar SC a 2-0 cushion just seconds before the end of first half.
In the 57th minute, Abdulrahman Mohammed of Qatar SC managed a header from an awkward position inside the Qatar SC box, but the deflection narrowly missed the far goalpost.
Ibrahim Saleh Al Kirby of Umm Salal also missed a similar drive from close range just a minute later.
Barbosa then probably scored the most spectacular goal of the season a curling corner kick that sailed right into the net.
Umm Salal scored the equalizer when Qatar SCs Mohamed Salim and Javier Martinez failed to clear a loopy ball inside their own box and Umm Salals Ghadban easily sent the ball into the net with defenders or keeper Al-hail out of sight.
SOURCE: QNA