Qatari Climber Fahad Badar Conquers Broad Peak in Karakoram Mountains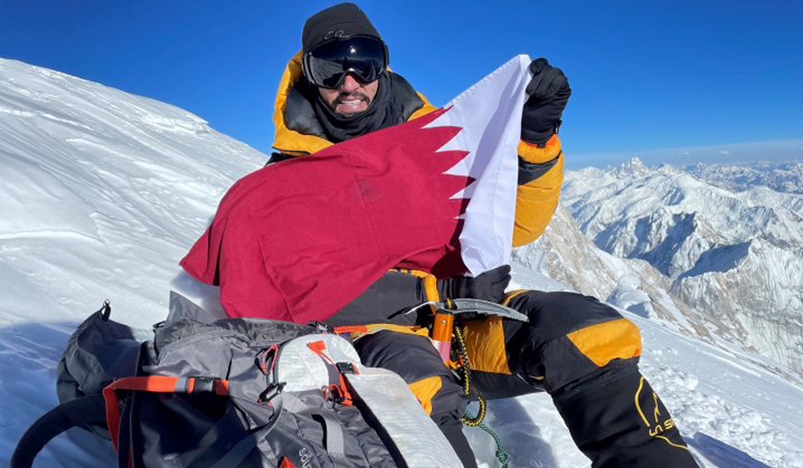 Qatari climber Fahad Abdulrahman Badar
Fahad Abdulrahman Badar, a Qatari climber seeking adventure and thrill among the highest mountain peaks and a pioneering bank executive, achieved yet another daunting sporting achievement as he succeeded in accomplishing the mean feat of climbing the Broad Peak, which is 8,047 metres above sea level in the Karakoram mountains of Pakistan.
Broad Peak is one of the most difficult peaks of the Pakistani Karakoram mountain range and is the 12th highest peak in the world, located on the border between China and Pakistan.
Badar began preparing for this difficult expedition immediately after his winter trip in January 2021, during which he was able to successfully climb the summit of Ama Dablam.
This is the third summit of 8,000 metres he has climbed, after Mount Everest and Lhotse, making him one of the few Arabs to have climbed these peaks.
"Broad Peak seems to bring out the best -and the worst – in people. And that's what keeps my hopes and enthusiasm alive to chart such tougher trajectories every time I select my next goal. Moreover, keeping up the Qatari flag higher at all such deadly summits has become my ambition and with every successful Summit, I am inching closer to my dream," he said.
Badar was injured during the descent, getting frostbite, when he was delayed due to the rescue efforts of another climber ahead of him, as he ran out of oxygen, which led him to spend a whole night near the summit of Broad Peak at an altitude of 7,800 metres.
His location was later determined and was transferred to K2 Base camp and then to the military hospital in Skardu.