Minister of Commerce and Industry and Acting Minister of Finance Inaugurates Cityscape Qatar 2021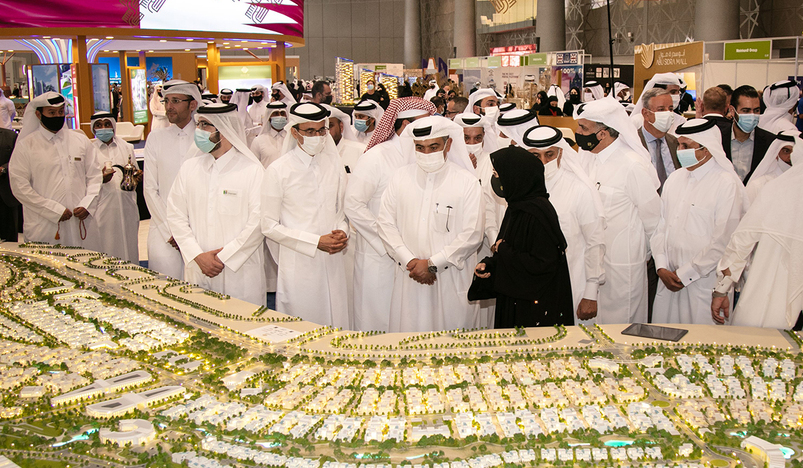 Cityscape Qatar's 9th Edition spotlights the latest real estate project launches by Qatar's leading developers
The 9th edition of Cityscape Qatar was officially opened by H.E. Mr. Ali bin Ahmed Al-Kuwari, Minister of Commerce and Industry and Acting Minister of Finance at the Doha Exhibition and Convention Centre today.
The event runs from 17-19th October and will unveil the country's prominent real estate projects from top Qatari developers. H.E Sheikh Nasser Bin Abdul-Aziz Al-Thani, Head of Business Development, Qetaifan Projects, spoke on the residential market opportunities in the coming months.
"We have seen our projects gain great sales over the recent months in our residential sector. Our island project has had great success with FDI's and we believe this trend will continue with the additional projects we will launch later this year to meet market demands." 
Throughout the event, which is held under the patronage of His Excellency Sheikh Khalid bin Khalifa bin Abdulaziz Al Thani, Prime Minister of Qatar, visitors can expect diverse discussions from Qatari's government ministers and global consultants. Today's agenda includes talks on the rise of digitalization from top consultants McKinsey & Company, whilst post-pandemic workspace trends were of key focus during a panel discussion including speakers from Cushman & Wakefield, Servcorp, and Workinton.
During the tour of the exhibition, H.E Al Kuwari stopped at the Barwa stand to set the foundation stone for the launch of their new residential project "Furjan Wadi Lusail".
Abdullah Jubara Al-Rumaihi, Group Chief Executive Officer of Barwa, said; "In our fulfillment of the group's role as a leading national real estate company, we are showcasing non-traditional projects to the Qatari Market, such as 'Madinatna' and 'Barahat Al Janoub', through our participation at this year's edition of Cityscape Qatar. The Qatari market is still open for many opportunities, especially in the lead up to the 2022 FIFA World Cup.
Changes in trends remained a key focus for companies at the show, with over 30 local and regional exhibitors taking part over the next three days. Developers have taken note of changing demands from buyers both local and international, with new projects offering investors access to luxury developments across a range of price points. 
Chris Speller, Group Director of Cityscape spoke on the diverse range of projects at this year's show; "Qatar's developers have responded quickly and effectively to the changing market and investor needs. The wide range of project launching and on display at this year's show is testament to that, from luxury waterfront properties to modern commercial developments. We look forward to seeing further launches and initiatives from Qatar's leading developers over the next three days."  
Cityscape Qatar is supported by Platinum Sponsors, Barwa and Qetaifan Projects.
The live event will be held in adherence with Informa AllSecure, a set of enhanced health and safety standards that raise the bar on safe, hygienic, productive, and high-quality organized event experiences. For more information, visit: www.cityscapeqatar.com  
Source: Press Release