Katara 11th Traditional Dhow Festival sets sail from Nov 30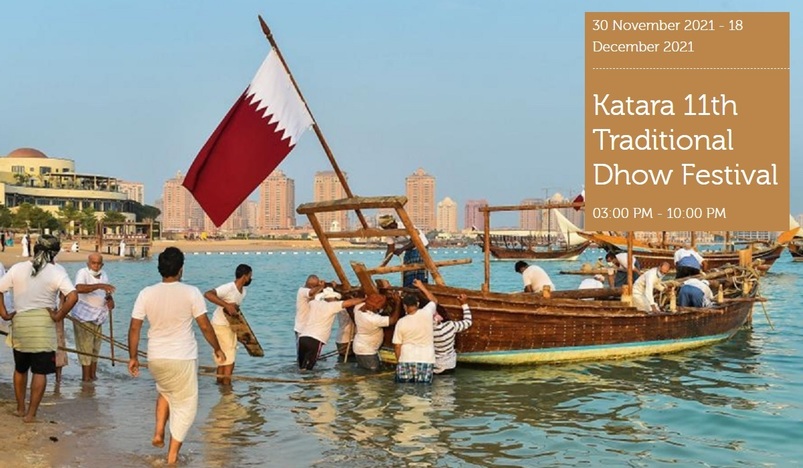 Katara 11th Traditional Dhow Festival
Under the patronage of His Highness The Emir Sheikh Tamim bin Hamad Al Thani, The Cultural Village Foundation - Katara organizes Katara 11th Traditional Dhow Festival at Katara Beach.
Happening  just in time with the FIFA Arab Cup Qatar 2021, the festival will be held at the Katara beach esplanade from November 30 to December 18. It will see participation of nine countries — Kuwait, Oman, Saudi Arabia, Iraq, Iran, Greece, India, Zanzibar and Turkey besides  Qatar.
The festival is characterised by a number of competitions and marine shows, besides a variety of cultural activities and events that shed light on the ancient maritime history aimed at restoring culture and preserving folk heritage, Katara - the Cultural Village Foundation has said in a statement.
Inspired by Qatar's rich maritime heritage, the Katara Traditional Dhow Festival enjoys a distinguished and distinct identity and highlights ancestral traditions.
The activities include exhibitions displaying maritime heritage collections from various participating countries, special pavilions of traditional handicrafts, and workshops showcasing the ship-building process and ancient craft, in addition to marine competitions.
This year's edition will see the launch of the 'Nahma' competition, an Arab singing tradition that is one of the most prominent marine heritage cultures in Qatar and the Gulf region. This will be in addition to the fine arts, painting and portrait competitions open to citizens and residents of various nationalities.
There will also be story-telling competitions and traditional stage shows throughout the festival. Also, tge Haddaq Al-Saif fishing competition will also take place on all days of the festival.
This edition will also be distinguished by a variety of other competitions and marine shows and a series of workshops related to handicrafts that shed light on the marine heritage and reflect the reality of the environment of the people of the sea, such as the manufacture of ships and boats ('galaf'), which occupies a prominent position among traditional industries.
Various industries pertaining to fishing, pearl diving and trade, folk craft such as palm fronds, wood, blacksmithing, spinning (fishing nets), ropes and other ancient marine artefacts, will be highlighted in addition to the presence of the traditional marketplace.
Live music, folk bands and delicious traditional food of various cuisine will also be on offer. In addition, artistic performances will be presented by popular groups on Thursdays, Fridays and Saturdays,
The festival will be open to all nationalities and people from all walks of life from 9am to 12noon and from 3pm to 10pm. On weekends, the festival will remain open until 11pm. On Fridays, the festival will open at 3pm.
"The Katara Traditional Dhow Festival - where traditions are revived and renewed – has established its position as a prominent destination for heritage, culture and tourism, reinforcing its role in preserving the authentic marine heritage and the customs and traditions of the ancestral past. It attracts thousands of visitors from across the world each year," the statement adds.
Source: The Cultural Village Foundation - Katara