Hilton The Pearl's Upscale Levantine Restaurant Marks Official Opening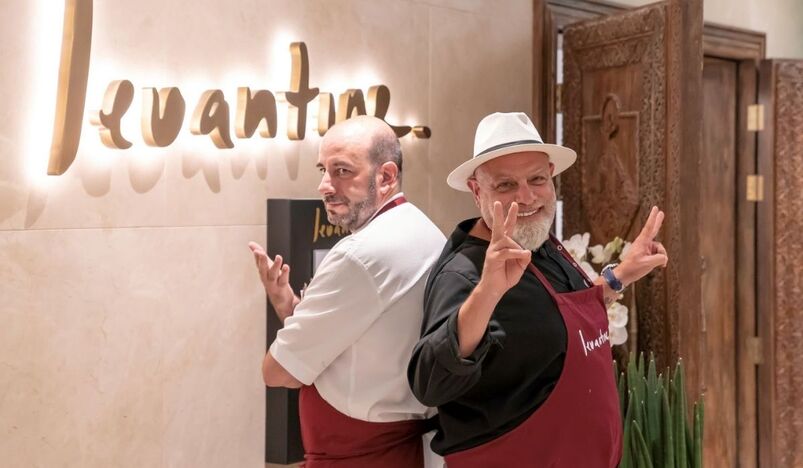 Celebrity Masterchef Joe Barza Welcomes Guests to Qatar's Home of Soulful Levant Cuisine
Upscale Levantine Restaurant, Qatar's home of contemporary soulful Levant cuisine, marked its official opening in the presence of Lebanese ambassador to Qatar, H.E. Farah Berri, Michael El- Jarouch, Vice President of First Qatar Real Estate—owning company of Hilton The Pearl – and Lebanese Masterchef Joe Barza.
"Hailing from the Levant, I am thrilled that our world-renowned healthy and highly varied cuisine has landed such a fine dining platform," said Chef Joe Barza, who collaborated on the menu with Executive Chef Thibaut Pouplard. "It has been both a pleasure and an honour to work with Executive Chef Thibaut Pouplard and his skilled and enthusiastic team in bringing to life a menu centered around the sharing and gathering culture of my home region."
Open daily for dinner from 6pm to midnight, Levantine's guests can dine indoors or outdoors amid the fragrant aromas of Levantine favourites, including flash-charcoal-grilled spiced meats, seafood, fish and vegetables, spit-roasted lamb and chicken, and fresh bread baking. The upscale Levantine lifestyle is also reflected on the terrace, where seating is available, and where signature Moroccan tea is served to pay tribute to Maghreb traditions. 
"This menu marks a coming together of a shared approach to culinary delivery which has excellence at its core. Together with Joe, we have mastered original culinary techniques to create new, mouthwatering experiences," said Chef Thibaut Pouplard.
With an environment that colourfully reflects the warm, welcoming Lebanese lifestyle with images of the country flanking the restaurant's walls, guests can savour a fine dining experience of new taste sensations with live, theater-style cooking of delicious meats cooked on fire, signature dish creations, as well as fresh bread and Lebanese manakish flatbreads served hot from the oven. It's a creative menu where traditional dishes have been given creative, signature touches with hot and cold mezzes and hummus creations, complemented by a selection of fresh homemade drinks made from local ingredients which combine classic mixes with traditional twists.
Noteworthy menu selections include exquisite grilled catch of the day - a fennel and lime preparation; grilled octopus – made from lemon jam and garlic; and grilled jumbo shrimps – a blend of red chili paste, cumin and coriander and the roasted lamb leg, a great sharing option for 3-4 diners. Guests can also savour the traditional Lebanese sausage, makanek, or opt for a range of fresh, vegetarian options before digging into a selection of the finest desserts.
 Levantine is an ideal venue for families and friends to get together at the end of a day or during the weekend and celebrate their connections over really good food and in great company. With the aromas of traditional cooking styles in the air, guests can close their eyes and feel they are amid the Mediterranean pine forests of the Levant.