Hay'ya Fan ID Not Mandatory to Enter Stadiums for FIFA Arab Cup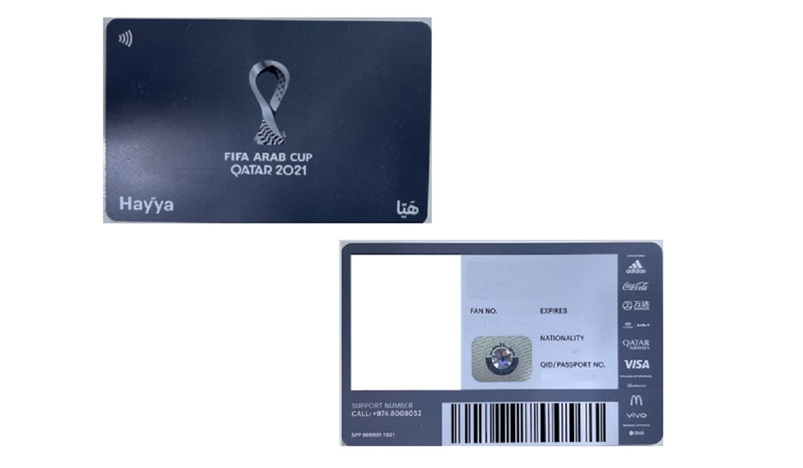 Hay'ya Card Important Updates
Fans are advised that a Hay'ya Card is no longer required for stadium entry during the FIFA Arab Cup 2021™. This announcement was published recently in the Qatar 2022 website.
Below are the Hay'ya Card important updates announced:
• Fans who have not applied for a Hay'ya Card no longer need to do so.
• Fans who have applied for a Hay'ya Card and not yet collected it, no longer need to do so.
• Fans who already have a Hay'ya Card can use this for free matchday travel.
 The Supreme Committee for Delivery & Legacy (SC) has announced that the first phase of the Hay'ya Card (Fan ID) project to attend the FIFA Arab Cup 2021 matches has been completed.
From now on it will be optional for fans to use the Hay'ya Card at FIFA Arab Cup matches. For the remainder of the tournament, fans will only need to show a ticket to enter a stadium, along with a gold frame EHTERAZ as proof of vaccination (or proof of a negative test for children aged 12 and under).
The SC thanked all fans and national stakeholders for their support in delivering the opening stage of this project.   
The SC's Technology and Innovation Executive Director Sami Al Shammari said: "The first phase has ended after 16 matches which is exactly half the number of games in the tournament."
Al Shammari continued: "The data and feedback we have gathered will enable us to fully review the entire Fan ID process as we continue preparations for next year's FIFA World Cup."
"A large number of Hayya Card holders used the device to access free public transport and this benefit will continue for the remainder of the tournament," he added.
International fans should apply for their entry permit to the State of Qatar by using the Hay'ya Card platform.
Stadium Entry
To enter the stadium e-ticket holders must download the 'FIFA Arab Cup 2021™? Tickets' app to display their ticket. Printed ticket holders must bring a physical ticket to the match.
International Fans
All International fans arriving from outside of Qatar, by land or air, will need to apply for their entry permit using the Hay'ya portal at https://FAC21.qa.
To ensure entry to Qatar, fans will need to show the entry permit PDF file. This will be sent as an attachment to each fan's approval email.
COVID-19
All fans aged 12 years old and above must be fully vaccinated against COVID-19, with their Ehteraz app showing a golden frame.
Children under 12 years old will need to take a rapid COVID-19 test in a certified medical centre within 24 hours of the match kick-off time. Proof of a negative test result will need to be shown at the stadium gates on matchday.
Source: qatar2022.qa