Another Route: Qatar Airways Completes First Flight To Almaty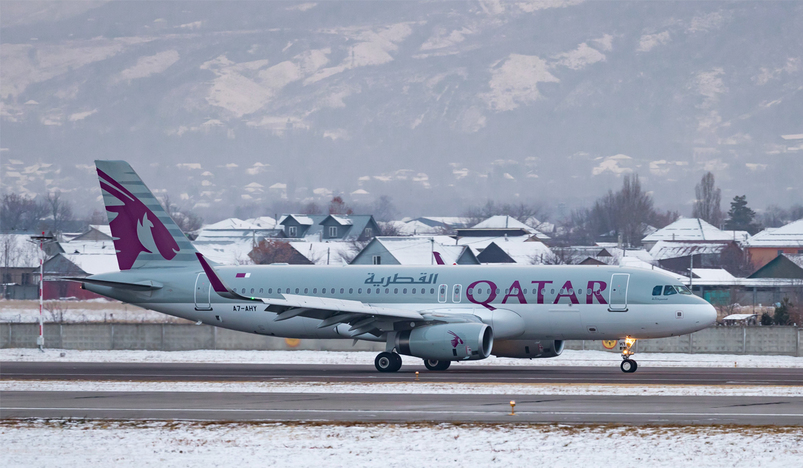 Qatar Airways
Qatar Airways has made an arrival in Almaty, Kazakhstan. The carrier made its inaugural flight on Friday, making the airline's first destination in Central Asia. The route will be served by one of Qatar's Airbus A320, flying twice a week.
Touch down
Qatar Airways flight QR391 touched down in Doha at 08:10 AM local time, completing the journey in 4 hours and 15 minutes. The new route marks Qatar's first foray into Central Asia and comes as the airline seeks out new markets to boost revenue.
Qatar Airways will operate the Doha-Almaty route twice a week. The outbound flight, QR391, will depart on Mondays and Fridays at 12:55 AM and arrive 4 hours and 20 minutes later at 08:15 AM. The return leg, QR392, will take off on the same days at 21:55 and return home at 12:10 AM (+1 day), taking a longer 5 hours and 15 minutes. The extra 55 minutes is just because flying east is quicker than the west.
With an 08:15 AM arrival, Qatar Airways has bagged itself a valuable slot at Almaty Airport, with red-eye business travelers preferring to maximize their time in the morning. With a Monday-Friday schedule, weekend leisure trips to the country are easily accessible too.
Aircraft choice
Doha-Almaty will be served by Qatar Airways' smallest aircraft, the Airbus A320-200. The jet seats 120 passengers in economy and 12 in business class. With only a 132 seats, the A320 has a low density compared to other operators. Moreover, the business class cabin offers flat-bed seats, an important amenity on the red-eye service.
The inaugural flight was flown by A7-AHY, a nine-year-old A320, according to Planespotters.net. The aircraft is one of 29 in Qatar's fleet and represents the average fleet age of 9.4 years. Narrowbodies are an essential part of the fleet and allow the carrier to launch routes to lower-demand destinations too.
In a statement about the new route, Qatar Airways CEO Akbar Al Baker said,
"We are delighted to launch direct services to Almaty, which reflects the close relationship between the State of Qatar and Kazakhstan. Almaty is continuing to grow in popularity with our passengers for both business and leisure purposes, attracting travellers who wish to enjoy its rich culture, cuisine and natural scenery."
Exciting times
In Doha, Qatar Airways is in the middle of what will hopefully be a sustained recovery for the airline. The carrier is bringing back its Airbus A380s, albeit reluctantly, and flying them to London Heathrow and Paris from December. While this is a response to an ongoing dispute with Airbus over the A350, it does show the airline's significant rebound.
For next summer, the airline is mulling sending the superjumbo to Manchester, indicating that the A380 has a future. As of now, Qatar Airways is not hesitating to launch new routes as the post-pandemic market finally comes nearer.