When it comes to natural gas shipments, the United Arab Emirates needs Qatar more than Qatar needs the U.A.E.
The U.A.E. joined Saudi Arabia in cutting off air, sea and land links with Qatar on Monday, accusing the gas-rich sheikhdom of supporting extremist groups. But the U.A.E., which depends on imported gas to generate half its electricity, avoided shutting down the pipeline supplying it from Qatar, which has the world's third-largest gas deposits.
Without this energy artery, Dubai's glittering skyscrapers would go dark for lack of power unless the emirate could replace Qatari fuel with more expensive liquefied natural gas.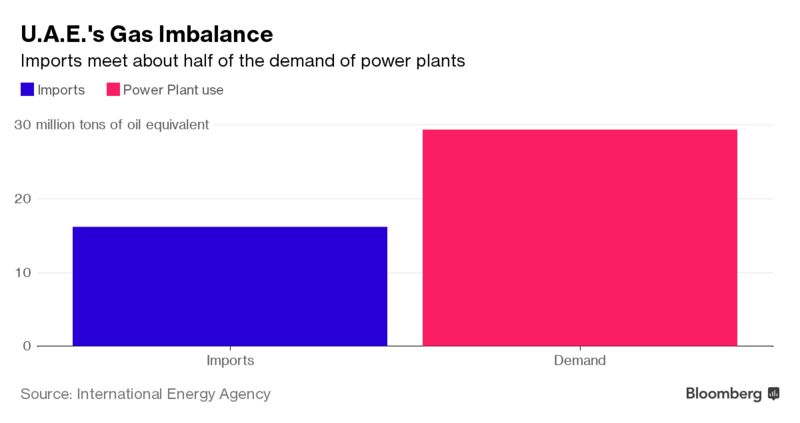 What's the situation for Qatari gas shipments to the U.A.E.?
Qatari natural gas continues to flow normally to both the U.A.E. and Oman through a pipeline, with no indication that supplies will be cut, according to a person with knowledge of the matter who asked not to be identified because the information isn't public. Abu Dhabi-based Dolphin Energy Ltd., which operates the gas pipeline, declined to comment.
Who are the players behind Qatar's gas link with the U.A.E.?
Qatar sends about 2 billion cubic feet of gas a day through a 364-kilometer (226-mile) undersea pipeline. Dolphin Energy, the link's operator, is a joint-venture between Mubadala Investment Co., which holds a 51-percent stake, and Occidental Petroleum Corp. and Total SA, each with a 24.5-percent share. Since 2007, the venture has been processing gas from Qatar's North field and transporting it to the Taweelah terminal in Abu Dhabi, according to Mubadala's website. Dolphin also distributes gas in Oman.
Why didn't the U.A.E. enforce a full ban on shipping with Qatar?
Apart from preserving gas shipments from Qatar, the U.A.E. on Wednesday actually eased efforts to isolate its smaller neighbor. The oil-port authority in Abu Dhabi, the U.A.E. capital, lifted restrictions on international tankers that have sailed to Qatar or plan to do so. Abu Dhabi's Petroleum Ports Authority removed the ban on Wednesday -- just one day after announcing it. The authority continues to prohibit Qatar-flagged vessels from entering ports in Abu Dhabi.
The oil tanker Apollo Dream, which can carry about 2 million barrels of crude a day, loaded at an offshore terminal in Abu Dhabi early Wednesday after arriving late Tuesday from an offshore terminal in Qatar, according to tanker tracking data on Bloomberg. The vessel is currently headed to Saudi Arabia's Ras Tanura port.